Pre-Health Advising
Advising on course selection, entrance exam preparation and application completion.

(Click Here or on Image Above for Individual Healthcare Guides)
Pre-Health students are able to explore the full spectrum of the liberal arts while completing the necessary prerequisites for their desired healthcare profession. Students should be enrolled in 4 classes a semester, and be enrolled in one math or science course each semester (depending upon the healthcare profession). For more detailed information about each healthcare profession's requirements look at the Pre-Health Guides. See the Health Professions prerequisite grid for the most common prerequisite courses. Pre-health students are encouraged to meet with Dr. Colleen McCracken Renick, our Health Professions Advisor.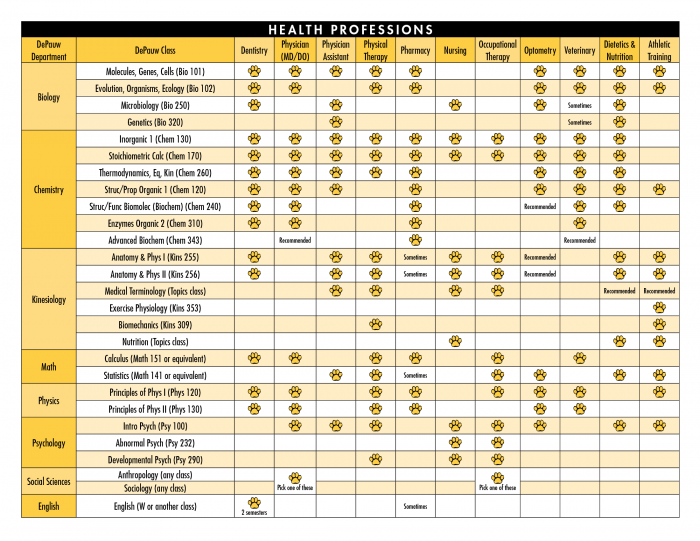 *Many health professions update their prerequisites each year, please double-check your intended health profession school's prerequisites throughout your 4 years at DePauw
Frequently asked questions:
What should I major in?

Whatever you want! Pick a major that you find interesting, and will prepare you for a life of meaning and means (even if that's not in healthcare).

Can I study abroad as a pre-health student?

Yes! Many of our pre-health students choose to study abroad, either for a short term or for a full semester experience. Check out Horizons for more information about study abroad programs (you can choose a pre-health program or another for your interests.)

How can I meet other pre-health students?

Get involved in the Future Medical Professionals Student group. You'll meet students interested in all of the healthcare careers, and if you're interested, get involved in a student mentor group. Future Medical Professionals have guest speakers from different healthcare professions share about their careers and how DePauw helped them prepare for their future careers.

I want to go into the healthcare field, but I don't have any healthcare professionals in my family. How do I find out if it's for me?

Many students who are interested in healthcare do not have immediate access to healthcare experience. Reach out to the Hubbard Center to get connected to a DePauw Alumnus, and find out about shadowing opportunities.

Can I do an internship as a pre-health student?

Yes! There are many opportunities for pre-health students to learn about careers in healthcare. Check out Handshake and the Summer Health Professions Education Program (SHPEP.org) for more information.

I'm not sure which health profession I'm interested in, what can I do?

Reach out to the Hubbard Center to schedule a meeting with Dr. McCracken Renick. She can talk with you about your interests and coach you through the next steps.
Meet with the Health Professions Adviser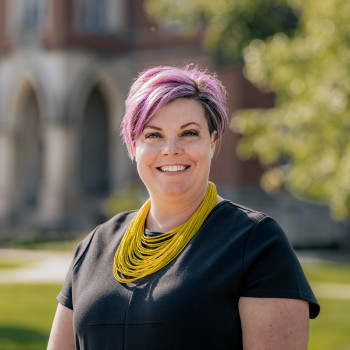 You are encouraged to meet with
Colleen McCracken Renick, Ph.D.
colleenmccracken@depauw.edu UB 103
She can help you determine which health care areas may be of most interest to you, what courses you should take to best prepare and what additional opportunities you can take advantage of.
Additional Resources
TO MAKE AN APPOINTMENT, CALL 765-658-4622, OR EMAIL HUBBARD@DEPAUW.EDU