Summer in Nice, France!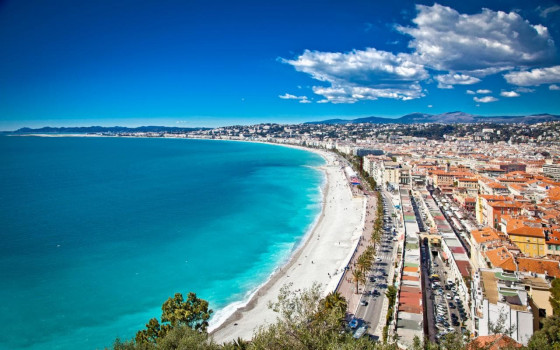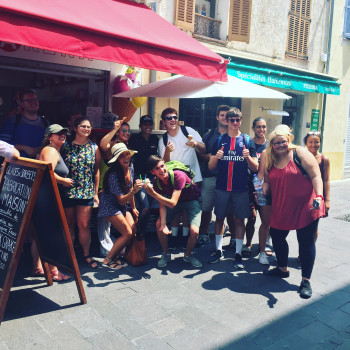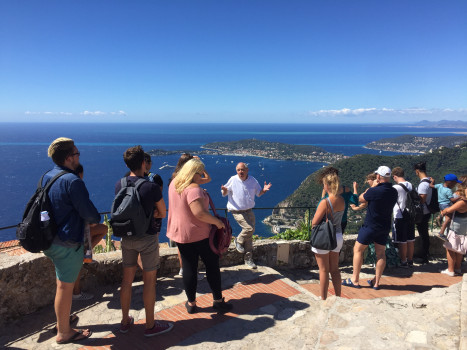 About Nice
Tucked between the pristine waters of the Baie des Anges and the breathtaking lower Alps, the city of Nice is often called Nissa la Belle (Nice the beautiful) for good reason. Nice is located in the south of France in the Provence-Alpes-Côte d'Azur region of France, an area eulogized by artists, writers, and diplomates. Dating back to the Romans and several times a part of the independent Italian states, today Nice is a vibrant blend of people from across the world including Northern Africa, Italy, Spain, Russia, and Great Britain. Whether you prefer taking in the Mediterranean sun on one of Nice's world-famous beaches, taking a stroll along the Promenade des Anglais, eating one of the local delicacies in the city's historic center, or visiting the city's many museums and markets, Nice is the perfect place to spend your summer learning or continuing your French education.
The DePauw in Nice, France Program
The DePauw in Nice program is a 4-week living-learning program on the historic French Riviera! The DePauw in Nice program is a unique blend of intensive in-class study, meaningful real-life immersion activities, and linguistic immersion with carefully chosen Niçois families. This hybrid method has proven productive, engaging and dynamic. At its core, each class meets in small groups focusing on oral production and grammatical accuracy. In the classroom, students work closely with each instructor; outside of the classroom, students are surrounded by opportunities to practice what they've learned.
Housing
Students are individually housed with host families curated by the Alliance française, a globally recognized educational entity providing world-class cultural and pedagogical amenities. Housing with host families provides DePauw students with a once-in-a-lifetime cultural and linguistic experience designed to fully immerse participants in Francophone life and culture. All host families are carefully vetted by the Alliance française meeting the highest international standards. Families are centrally located providing quick access to the city's vibrant cultural center as well as the Alliance française where many classes take place. Housing fees include a private bedroom in a host family's residence as well as breakfast and dinner 7 days a week (students are responsible for purchasing daily lunches).
Courses
Courses for the DePauw in Nice summer program are specifically designed for the immersive atmosphere of the summer experience. Classes take place at the Alliance française as well as in cafés, markets, streets, and surrounding towns that have a made the French Riviera famous around the world.
GFS 101: Intensive Elementary French
Practice in speaking, listening, reading and writing. For those students with no prior experience in French.
GFS 110: Review of Elementary French
Practice in speaking, listening, reading and writing. Review of French grammar and study of Francophone cultures. For those students who have prior experience in French.
GFS 201: Intermediate French I
Reading, oral practice, composition and further study of grammar and Francophone cultures (First course for a minor in French)
GFS 202: Intermediate French II
A continuation of GFS 201 (Second course for a minor in French)
(Counts for the minor or major)
Excursions and Cultural Exploration
Nice, France is known throughout the world as a cosmopolitan hub that offers visitors a unique blend of cultures from around the world. Participants in the DePauw in Nice program will have the opportunity to explore Nice's many museums, markets, restaurants, cafés, and festivals in addition to the many planned weekly activities. Recent examples of cultural activities include a wine course in a 14th century wine cellar, a pétanque lesson in the rolling hills of the backcountry (learn more about pétanque here), a Mediterranean cruise to the infamous St. Tropez, tours of Cannes, Èze, a majestic ride on the train des merveilles(one of the most beautiful train rides in all of Europe) and many more! See all that Nice has to offer here!
Program Dates
The DePauw in Nice program runs from June 1st to June 27th. This four-week program is the equivalent of one semester on campus and students receive one credit for the class that they take. In addition, students receive one extended-studies credit.
| SESSION | DURATION | CREDITS |
| --- | --- | --- |
| 1 | 4 weeks | 1.0 |
Tuition and Fees
Tuition and Residential Fees:
All students enrolled at an accredited higher education institution receive a 50% discount on tuition regardless of their financial aid status. Residential fee includes private room in a family home, breakfast and dinner 7 days a week, and student activities in Nice and surrounding areas. Rates subject to change. Not Included: Transportation to and from Nice, health and travel insurance.
SESSION
TUITION
RESIDENTIAL & PROGRAM FEES
TOTAL
1

$6284.00 - 50%
= $3,142.00*
$2,300.00
$5,442.00*
(*Subject to change. Each student will receive a $200.00 award to defray the program fees)
Total price includes:
1 credit for course taken
additionally, the program counts as one Extended Studies experience
housing with a host family for 4 weeks
breakfast and dinner 7 days a week
all excursions
unlimited bus and tram pass for length of the trip
Contact us about scholarship opportunities!
Program directors
Associate Professor Cheira Lewis
A native of Toulouse, Prof Lewis has been teaching at DePauw for 9 years. Read more about Prof. Lewis here
---
Assistant Professor CJ Gomolka
Prof Gomolka has been teaching at DePauw for 3 years and lived in Nice for a year. Read more about Prof. Gomolka here.