Psi Chi - The International Honor Society for Psychology!
Psi Chi is the National Honor Society in Psychology, dedicated to encouraging, stimulating, and maintaining excellence in scholarship, and advancing the science of psychology.
Psi Chi is the oldest honor fraternity at DePauw University. We are involved in many philanthropic and educational events on campus, including sponsoring speakers in psychology-related fields and presenting stress-relief tips. DePauw Psi Chi also works closely with the Mental Health Association of Putnam County. Perhaps most importantly, Psi Chi provides recognition for students who excel in the field of psychology.


OFFICERS:
PRESIDENT: Jillian Meyer
Vice President: Tina Guo
Treasurer: Sage Sherfick
Secretary/Communications: Kimberly Bello-Rosas
Faculty Advisor: Dr. Robert West, Professor of Psychology and Neuroscience
CURRENT MEMBERS:
Nooran Bamatraf
Kimberly Bello-Rosas
Anna Chinni
Tina Guo
Lauren LaMore
Boyan Ma
Zimo Ma
Jilliam Meyer
Skylar Niles
Natalia Rueda-marshall
Sage Sherfick
Emma White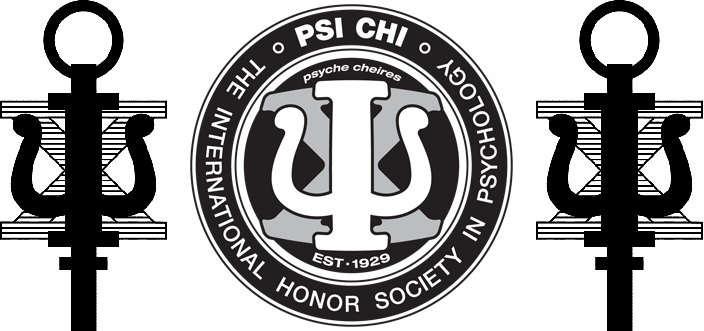 MEMBERSHIP REQUIREMENTS
The requirements to be accepted into Psi Chi as an undergraduate, a candidate must meet the following criteria, as listed on the Psi Chi website:
Must be enrolled as a major or minor in a psychology program (or a program psychological in nature)

Must have completed at least 3 semesters or equivalent of the college course and at least 9 semester hours (or equivalent) of psychology courses

Must have earned an overall GPA that is in the top 35% of the his/her class in general scholarship (minimum GPA of 3.0 on a 4-point scale)

have a minimum 3.0 GPA in psychology courses
Transfer students follow the same requirements as listed above. A transfer student should complete at least 12 semester hours (or equivalent) at the new institution in order to establish a GPA unless otherwise specified in the chapter's bylaws. Transfer students who are already members of Psi Chi must contact the Psi Chi faculty advisor at the new institution to complete an online transfer membership form.
At DePauw, students are generally are invited into Psi Chi during their sophomore or junior years, although anyone who fulfills the criteria listed above is welcome. New members are formally inducted during the spring of each year.