About Dr. Asher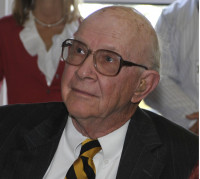 J. William Asher graduated from DePauw in 1950 with a degree in psychology and went on to earn both a Master of Science degree and Ph.D. from Purdue University. Dr. Asher has had a distinguished career as a member of Purdue University's faculty, in his service and leadership to his profession, and as an author of three books. He retired in 2003 as Professor Emeritus of Education and Psychological Sciences. Dr. Asher has long been a proponent of substantive undergraduate research and regards his own liberal arts education at DePauw as "an excellent foundation for graduate school"
Dr. Asher has established four endowed research funds at DePauw University, one in 1996 for psychology, one in 2007 for the social sciences, one in 2013 for the humanities and one in 2016 for other lab sciences and mathematics. The Asher funds provide opportunities for DePauw students and faculty members to participate in high-level research projects and scholarly/creative activities, which significantly enrich the educational experience and better prepare students for postgraduate scholarly endeavors.
Dr. Asher's fifth endowment – supporting the J. William Asher Office of Undergraduate Research, Scholarship and Creative Activity – brings together Dr. Asher's life's investments in DePauw and its student and faculty research. Funding from this endowment turns a vibrant idea into reality and breathes life into the many possibilities and enhanced services it creates.
Driven by his love of his alma mater and his conviction that research opportunities distinguish students amongst their peers, while also attracting gifted faculty members, Dr. Asher once again continues his exceptional support of DePauw and through these endowments makes a profound impact on and leaves an extraordinary legacy in support of research at DePauw University.