Henry Dambanemuya '13
Promoting Peace through Data Science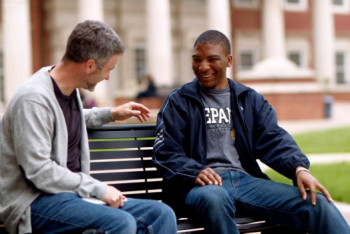 When Henry Dambanemuya '13 traveled from Zimbabwe in 2009 to attend DePauw and participate in the University's Honor Scholar Program, it was his first time in the United States and his first time on an airplane.
"I had no family, friends, relatives, or anyone I knew in this country. I was alone, but I never felt unsupported throughout my journey at DePauw. Now I look back to the days I first arrived in Greencastle and I am deeply enthralled by the amazing support of the staff and faculty here at DePauw as well as several people from the larger Greencastle community that I became friends with and to this day still return to visit on occasion," he told a group of students, faculty, staff and families in Meharry Hall in May 2018.
Kevin Moore, Kenneth S. Wagoner Professor of Psychology & Neuroscience and Director of the Honor Scholar Program, nominated Henry to speak at DePauw's 2018 Academic Awards Convocation calling him "a perfect example of the integrative and interdisciplinary ethos of the Honor Scholar Program" and introducing him as "my former student, my current friend, and my future mentor."
At DePauw, Henry double majored in computer science and conflict studies, served as a Presidential Ambassador, and as an intern at the Janet Prindle Institute for Ethics. He received the Dr. Irving Serlin Distinguished Honor Scholar Award for the graduating senior in the Honor Scholar Program who best exemplifies the ideals of an Honor Scholar.
Henry said, "Pedar Foss's First-Year Seminar examining the ethics of combat through Eastern and Western philosophical approaches to questions of conflict and war sparked a curiosity in me to investigate the causes of warfare, the reasons we fight, and war's effects upon non-combatants. As my First-Year Advisor, Pedar not only helped me decide to double major in computer science and conflict studies, but he was one of the first people that made me believe I could make a difference in this world."
Acting on this belief, Henry helped find a safe disposal solution for unwanted stockpiles of old electronics devices in Putnam County, Indiana and petitioned the University to adopt a responsible electronics procurement policy that prioritized manufacturers that eliminate conflict minerals from their supply chain. During a holiday break his sophomore year, he read the book Not on Our Watch: The Mission to End Genocide in Darfur and Beyond, which reinforced his interest in peace and conflict studies. That same year, he returned home during Winter Term, supervised by Dave Berque, Herrick E.H. Greenleaf Professor of Computer Science, to develop an Electronic Medical Records (EMR) prototype for rural hospitals in Zimbabwe.
"It's important for me to highlight that at every point in one's life, a teacher's influence is very much important. I owe much of my intellectual success to inspiring teachers, mentors, and friends like Kevin Moore, Brett O'Bannon, and Douglas Harms," Henry said. "Their meticulous guidance and supervision of my interest in computer science and passion for social justice work led to my Honor Scholar Thesis on early warning systems for the responsibility to protect civilians from genocide, war crimes, and crimes against humanity which also helped prepare me for further graduate studies and life after DePauw."
Henry's Honor Scholar Senior Thesis examined the feasibility of using electronic communication patterns to predict humanitarian crises, to allow security and relief organizations to prepare. He further developed his work and earned a master's degree from the University of Notre Dame's Kroc Institute for International Peace Studies. His published work developed computational methods for harvesting social signals to predict the end of hostilities and assist in monitoring the peace process in Colombia. He accepted an offer from the joint doctoral program in computer science and communications at Northwestern University where he will work on a Ph.D. in technology and social behavior. Outside academia, he has worked as a software engineer and data scientist for Liberty Mutual Insurance and Chewy, Inc.
An avid member of the track & field and cross country teams while a DePauw student, Henry says he continues to enjoy running especially in local 5K races. He was happy to return to DePauw, which he has done several times since graduation. "Coming to Greencastle always feels like coming back home. I owe much of my personal success to the good and kind-hearted people of this town that welcomed me into their homes and made me a part of their family," he said, noting that he counts several townspeople among his close friends and encouraging DePauw students to get involved in the community and build relationships beyond campus.
In addition to inspiring students and faculty alike through his work and presentations on campus, Henry contributes to The Fund for DePauw. "Giving is an important aspect of alumni involvement with DePauw" he said, "making it possible for other students to attend the University."