Jennifer Worth '99
From Student Chemist To Life-Saving Surgeon And Scholarship Benefactor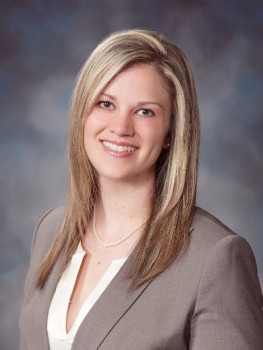 Dr. Jennifer Worth '99 graduated from DePauw with a degree in chemistry. "While I have fond memories of my freshman year at DePauw, the friends I made on BR1 and the chemistry department and fantastic leadership exhibited by the professors," she said, "my time away from campus holds the most important experiences for my college education. I did two Winter Term in Service programs (Philippines 1997 and Brazil 1999), a semester in Philadelphia (1997, GLCA Philadelphia Center with internships at the Hospital of the University of Pennsylvania and in a private pediatric practice) and a semester in Scotland (1998, University of Aberdeen). The resources available to make all of those experiences happen are uniquely DePauw."

Jennifer made the most of her DePauw years, with a laser focus on her dream of becoming a physician. She went on to earn an M.D. degree from Drexel University College of Medicine in 2005. She completed her general surgery residency at University of Nebraska Medical Center in 2011. She is board certified in thoracic surgery, and is a fellowship trained cardiothoracic surgeon (The Ohio State University Medical Center 2013) with special interest in lung and esophageal cancer, general thoracic care and minimally invasive procedures. She works as a thoracic surgeon at Penn Medicine at Lancaster General Health in Lancaster, Penn., collaborating with other medical specialists to diagnose conditions and identify the best course of treatment for patients. Her professional achievement is impressive with women representing only five percent of practicing surgeons certified by the American Board of Thoracic Surgery.
Jennifer leads a dynamic life, even when she's not treating patients and saving lives. "I love being active and outside when possible," she said, "although I love my Peloton bike too! I also take tennis lessons, run, travel, knit and volunteer with a youth-focused nonprofit."
Jennifer recently increased her loyal philanthropic support for The Fund for DePauw and qualified for the Named Scholar Program. "I received a letter with the name of a student who was awarded the Jennifer Worth Fund for DePauw Scholarship. That really resonated with me, because I realized this was my opportunity to 'pay it forward.' Previously, I had been making donations with the thought that any donation was good to support the mission of the University and it's longevity as it was a special time and place in my life," Jennifer said. "However, I would not have been able to attend if it hadn't been for academic awards. Seeing that student's name on a piece of paper made me hopeful that through my donations, I'm helping a student experience their own DePauw opportunity in their unique way."
Scholarship support is a vital investment to make the DePauw experience accessible to diverse and talented students of high academic promise. Nearly half of DePauw students receive need-based financial aid while an additional 40% qualify for merit scholarships. Alumni and friends contributing $5,000 or more in a fiscal year to The Fund for DePauw qualify for the Named Scholar Program.
Jennifer said, "Making sure DePauw University continues into the future is important to me and why I choose to donate to The Fund for DePauw."