Alumni Association Board of Directors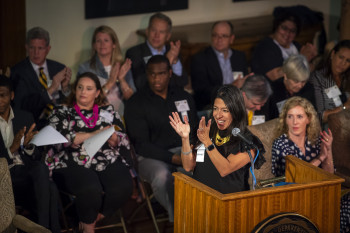 The Office of Alumni Engagement oversees the Alumni Association as well as the Alumni Association Board of Directors. The Alumni Association is governed by a Board of Directors, made up of forty-five members, which are nominated and selected to represent the more than 35,000 alumni living nationally and internationally.
The Office of Alumni Engagement and the Alumni Association Board of Directors are responsible for carrying out all alumni-related activities.
Board of Directors Committees | Committee Charges
Admission
The Admission Committee will provide alumni assistance to the Admission Office in recruiting and enrolling targeted students to DePauw and work to educate and engage the alumni in the University's admission process.
Advancement
The Advancement Committee will promote loyal financial support of the University from all alumni recommending strategies for alumni engagement, cultivation, solicitation, and stewardship.
Career Services
In collaboration with the Career Development Office, the Career Services Committee is dedicated to facilitating and strengthening the link among employers, alumni, and students.
Regional Engagement
The Regional Engagement Committee provides meaningful opportunities which engage and connect DePauw alumni around the world.
Student Engagement
The Student Engagement Committee assists the Alumni Office in identifying strategies and programs that will help provide opportunities for engagement with current students both on and off-campus.
---
Alumni Board of Directors Committee Assignments
Association Officers
Denise Castillo Dell Isola '96, President
John Cassidy '82, Vice President
Barbara Pontius Bowman '83, Secretary
Admission Committee
Liz Copher Browning '84, Chair
Daniel A. Aranda '97
Anne Christy Ballentine '86
Alex Perdew Bhatt '00
Barbara Pontius Bowman '83
Michelle Carnahan '91
MJ Glover Dodds '78
Brian Hersh '99
Stacy Goodwin Lightfoot '99
Kathy Galliher Locke '85
Libby Fortune Somerville '78
Kim Svenson Weas '97
Advancement Committee
Jane Brazes Funke '78, Chair
Buffy Burnett Boulett '73, Vice Chair
J.R. Foster '02
Charles Compton '89
Henry Dambanemuya '13
Palak Pandya Effinger '02
Kathy Miller '73
Heather Whittemore Locke '93
Eric Wolfe '04
Career Services/Student Engagement Committee
Tim Feemster '68, Chair
Jason Spilbeler '07, Vice Chair
Caryn Cockerill Anderson '89
Mary Church '17*
Marcus Dozier '16*
Sarah Gormley '94
Henry Malm '08
Jim Meyer '86
Ellen Miller '76
Matt Newill '09
Armaan Patel '18*
Dustin Romine '99
*Denotes student-elected representatives.
Regional Engagement Committee
Joe Rohs '84, Chair
Myron El '76
Tripp Freeman '93
John Gergely '04
Melinda Haag '81
Jen Hetzel Hallman '00
Scott Howard '98
Jessica Daniel Moore '04
Obinna Ugokwe '05
John Wehrenberg '90
Ad hoc work group on Diversity and Inclusion
Stacy Goodwin Lightfoot '99, Co-chair
Melinda Haag '81
Palak Pandya Effinger '02
Alumni Association Board of Directors:
NAME/E-MAIL LINK, Year
Position/City
NAME/E-MAIL LINK, YEAR
POSITION/CITY
Denise Castillo Dell Isola '96
President

Chicago, IL
John Cassidy '82
Vice President

Claredon Hills, IL
Barbara Pontius Bowman '83
Secretary

Woodstock, GA
Caryn Cockerill Anderson '89

Zionsville, IN
Daniel Aranda '97

Alexandria, VA
Anne Christy Ballentine '86

Milwaukee, WI
Alexandra Perdew Bhatt '00

Los Angeles, CA
Elizabeth Burnett Boulet '73

Indianapolis, IN
Elizabeth Copher Browning '84

Carmel, IN
Michelle L. Carnahan '91

Westfield, IN
Mary H. Church '17

Rochester, NY
Charles Compton '89

Evansville, IN
Henry Dambanemuya '13

South Bend, IN
Mary Jane Glover Dodds '78

Piedmont, CA
Marcus P. Dozier '16

Postdam, NY
Palak Pandya Effinger '02

Indianapolis, IN
Myron El '76

Whitestown, IN
Timothy S. Feemster '68

Dallas, TX
James R. Foster '02

Cincinnati, OH
Donald M. Freeman '93

Darien, CT
Jane Brazes Funke '78

Indianapolis, IN
John Gergely '04

Kalamazoo, MI
Sarah C. Gormley '94

New York, NY
Melinda Haag '81

River Forest, IL
Jennifer Hetzel Hallman '00

Burke, VA
Brian M. Hersh '99

Sarasota, FL
Scott Howard '98

San Francisco, CA
Stacy Goodwin Lightfoot '00

Chattanooga, TN
Heather Whittemore Locke '93

Western Springs, IL
Kathleen Galliher Locke '85

Decatur, IL
Henry Malm '08

Evanston, IL
James F. Meyer '86

Chesterfield, MO
Ellen S. Miller '76

Pawtucket, RI
Kathryn A. Miller '73

Fort Wayne, IN
Jessica Daniel Moore '04

Indianapolis, IN
Matthew D. Newill '09

Denver, CO
Armaan Patel '18

Noblesville, IN
Joseph H. Rohs '84

Cincinnati, OH
Dustin J. Romine '99

Houston, TX
Libby Fortune Somerville '78

Indianapolis, IN
Jason A. Spilbeler '07

Indianapolis, IN
Obinna Ugokwe '05

San Jose, CA
Kimberly Svenson Weas '97

St. Louis, MO
John Wehrenberg '90

Chicago, IL
Eric Wolfe '04

Greencastle, IN