Alumni Association Board of Directors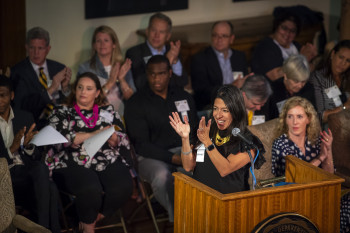 The Office of Alumni Engagement oversees the Alumni Association as well as the Alumni Association Board of Directors. The Alumni Association is governed by a Board of Directors, made up of forty-seven members, which are nominated and selected to represent the more than 35,000 alumni living nationally and internationally.
The Office of Alumni Engagement and the Alumni Association Board of Directors are responsible for carrying out all alumni-related activities.
Board of Directors Committees | Committee Charges
Admission
The Admission Committee will provide alumni assistance to the Admission Office in recruiting and enrolling targeted students to DePauw and work to educate and engage the alumni in the University's admission process.
Advancement
The Advancement Committee will promote loyal financial support of the University from all alumni recommending strategies for alumni engagement, cultivation, solicitation, and stewardship.
Career Services
In collaboration with the Career Development Office, the Career Services Committee is dedicated to facilitating and strengthening the link among employers, alumni, and students.
Regional Engagement
The Regional Engagement Committee provides meaningful opportunities which engage and connect DePauw alumni around the world.
Student Engagement
The Student Engagement Committee assists the Alumni Office in identifying strategies and programs that will help provide opportunities for engagement with current students both on and off-campus.
Alumni Association Board of Directors
Chloie M. Favinger '09
President

Arlington, VA
Melinda Haag '81
Vice President

Bloomington, IN
Charles Compton '89
Secretary

Evansville, IN

Sara Sabin Alger '98

Boeme, TX

Jasmine Ames '13

Savannah, GA

Jill Thompson Ash '78

Encinitas, CA

Paul Booth '04

Loveland, TX

Christina Bourantas '22

Wilmington, DE

Deonna Craig '04

Indianapolis, IN

Henry Dambanemuya '13

Evanston, IL

Joseph Dayan '82

Indianapolis, IN

Jeannine Deimel Dolinski '80

LaGrange, IL

Mark Driggs '91

Chicago, IL

Elizabeth English Eckert '99

Carmel, IN

Palak Pandya Effinger '02

Indianapolis, IN

John Faulkner '80

Wilmington, DE

John Gergely '04

Speedway, IN

Paul Geyer '84

Dallas, TX

Adam Gilbert '10

Chicago, IL

Elizabeth Grady '14

Chicago, IL

Kris Gruner '91

Sister Bay, WI

Mary Jane Murray Hall '73

Bloomington, IN

Miriam Hornbuckle Grays '06

Indianapolis, IN

Siobhan Lau Hunter '09

Chicago, IL

Amy Baumgartner Hutton '04

Tuscaloosa, AL

Matthew Kleymeyer '04

Carmel, IN

Erica Scott Lawrence '00

New Albany, IN

Stacy Goodwin Lightfoot '99

Chattanooga, TN

Timothy R. McFadden '84

Ballwin, MO

Nathan M. Moch '03

Mercer Island, WA

Jessica Daniel Moore '04

Indianapolis, IN

Laura Pearce '10

Chicago, IL

Madeline Perry '23

Washington, DC

Brandon Piper '09

Los Angeles, CA

Raphaella Palmer Prange '97

Decatur, IL

Susannah Ramshaw '07

Austin, TX

Stephen Robinson '04

Santa Monica, CA

Abhishek Sambatur '19

Carmel, IN

Katie Schmelzer '09

Chicago, IL

Charlie Shivers '03

Dayton, OH

Keith Stanford '95

Indianapolis, IN

Stephen Strup '84

Nicholasville, KY

Patrick Wagner '10

Indianapolis, IN

Yuka Kitajima Watanabe '17

Koto, Japan

Joseph Webster '89

Indianapolis, IN

Whitney Weinschenk '21

Florence, KY

Yvonne Williams '09

Jamaica, NY

Eric Wolfe '04

Greencastle, IN

David Ziemba '03

Indianapolis, IN
Alumni Board of Directors Committee Assignments
Association Officers
Chloie M. Favinger '09, President
Melinda Haag '81, Vice President
Charles Compton '89, Secretary
Admission Committee
Jill Thompson Ash '78, Chair
Elizabeth Grady '14, Vice-chair
Christina Bourantas '22
Jessica Daniel Moore '04
Raphaella Palmer Prange '97
Susannah Ramshaw '07
Yvonne Williams '09
Eric Wolfe '04
Advancement Committee
Sara Sabin Alger '98, Chair
Adam Gilbert '10, Vice-chair
Henry Dambanemuya '13
Palak Pandya Effinger '02
Siobhan Lau Hunter '09
Matt Kleymeyer '04
Tim McFadden '84
Laura Pearce '10
Charlie Shivers '03
Whitney Weinschenk '21
Career Services/Student Engagement Committee
Brandon Piper '12, Chair
Stephen Robinson '04, Vice-chair
Elizabeth English Eckert '99
Paul Geyer '84
Erica Scott Lawrence '00
Nate Moch '03
Stephen Strup '84
Institutional Equity Committee
Palak Pandya Effinger '02, Co-Chair
Yvonne Williams '09, Co-Chair
Melinda Haag '81
Stacy Goodwin Lightfoot '99


Regional Engagement Committee
David Ziemba '03, Chair
Mary Jane Murray Hall '73, Vice-chair
Deonna Craig '04
John Gergely '04
Miriam Hornbuckle Grays '06
Abhishek Sambatur '19
Keith Stanford '95
Yuka Kitajima Watanabe '17