About GIS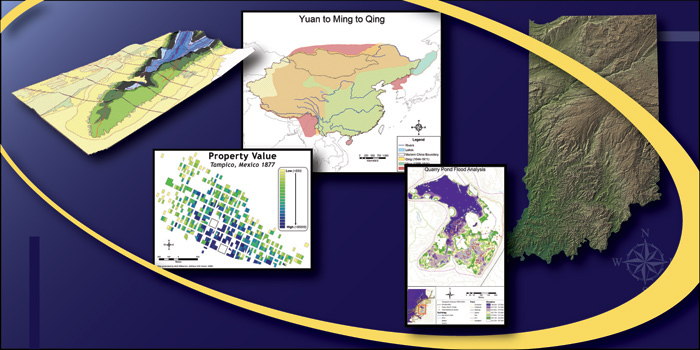 Geographic Information Systems (GIS) is a technology that combines databases and computer mapping systems to interactively visualize data both spatially and temporally. Although geographic information systems were traditionally associated mainly with environmental analysis and resource management, they are now becoming more prevalent in the government, private, and academic sectors. In fact, because GIS technology is such a versatile cross-disciplinary tool, it is quickly becoming the preferred mechanism for managing information.
The DePauw Geographic Information Systems (GIS) Initiative formally commenced in January 2004, funded partially by Mellon Venture grants and partially by support from the Lilly Endowment for DePauw's 361° Programs. The DePauw GIS Center, a product of this initiative, was established in January 2005.
The DePauw GIS Center strives to:
Maintain a GIS presence at DePauw.
Coordinate GIS activities across campus so that information and knowledge can be shared and exchanged for the benefit of the entire DePauw community.
Collaborate with Greencastle and Putnam County groups/officials in order to establish a symbiotic relationship that will benefit both DePauw and the surrounding region.
The GIS Center, a core component of the University's 361° Programs, is situated within DePauw's Instructional and Learning Services (I.L.S.) department and is overseen by the GIS Specialist, Beth Wilkerson.
Last update: 17-Jul-2019