Differences are Important, But "Unity is Indispensable" as Nation's Problems are Addressed: Lee Hamilton '52
September 4, 2012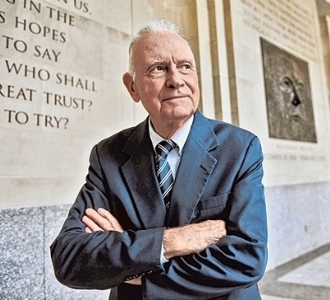 "It has been apparent almost since the beginning that our nation's welfare rides on how well political leaders balance the needs of the country against their partisan goals," writes Lee Hamilton in a newspaper op-ed. The veteran statesman and 1952 graduate of DePauw University notes that presidents such as George Washington and Lyndon B. Johnson realized "the good of the country comes first, even if it runs counter to the interests of one's political party."
Hamilton, a Democrat who served 34 years in the U.S. House of Representatives, states, "Now, we're not going to abolish parties, and we shouldn't. They help us organize our political choices, define and advocate issues, and make sense of elections. But if we're not careful, they can be carried to such an extreme that
they divide government, when what we need is unity of government."
According to Hamilton, "We need it in foreign affairs, where the more united we are as a nation, the stronger we are. And we need it in domestic policy, where excessive partisanship agitates the people, creates animosities among them, leads to distrust within Congress, and short-circuits our ability to resolve the problems that press against our future. If you doubt any of this, just look around."
His column concludes, "Our differences are important; they are part of who we are as a nation. But if we want to overcome our challenges and preserve our greatness, unity is indispensable. The great work of our democracy, as it has been for over 200 years, is learning how to reconcile the two."
You'll find the complete essay in the Detroit News or at College News.org.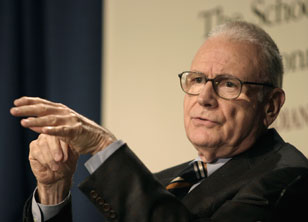 Lee H. Hamilton co-chaired the 9/11 Commission and Iraq Study Group and is director of the Center on Congress at Indiana University. He is the author of Strengthening Congress; How Congress Works and Why You Should Care and A Creative Tension: The Foreign Policy Roles of the President and Congress. Access another recent op-ed here.
As a DePauw undergraduate, Hamilton majored in history and was a star player on the Tiger basketball team. He was inducted into the Indiana Basketball Hall of Fame in 1982 and the DePauw Athletic Hall of Fame in 1987.
On March 15, 2011, he returned to DePauw to deliver a Timothy and Sharon Ubben Lecture. A summary including video clips can be accessed here.
Back