New Campus Farm Serves Students & Community, is "A Living Laboratory"
September 3, 2013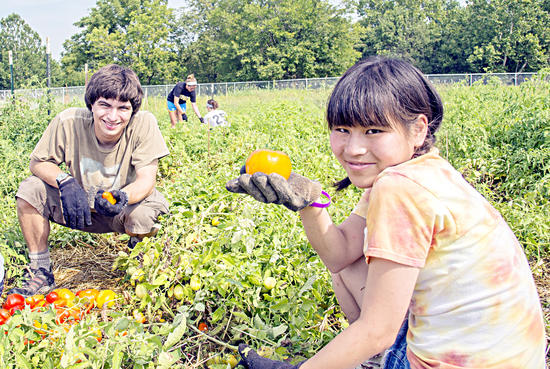 "The rich and long agricultural history of Putnam County has a new chapter with the opening of DePauw University's new, one-acre organic campus farm," begins a story published in today's edition of Greencastle's Banner-Graphic. "Located on West County Road 225 South on the way to DePauw's Prindle Institute for Ethics, the farm is tended by DePauw students, employees and members of the local community ... The farm-fresh offerings are being served in the dining hall at DePauw, with 10-15 percent of the produce being donated to the Putnam County Emergency Food Pantry."
"We want students to be connected to the land, and we're thankful to so many in the
local community who have advised the start of this project," says Carol Steele, director for sustainability at DePauw (pictured at left).
Jackie Baratta, manager of the farm, says volunteers have been stepping forward from the campus and community. "This is a living laboratory. We want everyone out here, from elementary class field trips to sorority pumpkin carving events."
Access the story at the newspaper's website. Learn more about DePauw's sustainability efforts here.
Back