Bret Baier '92 Marks Five Year Anniversary as Special Report Anchor
January 7, 2014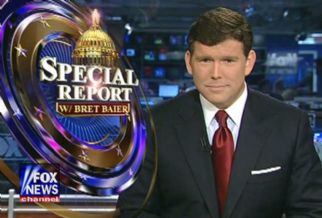 "The thing Brit Hume told me when I took over the show was, 'Let the news drive the show'," recalls Bret Baier, anchor of Special Report on Fox News Channel. Baier, a 1992 graduate of DePauw University, replaced Hume in the program's anchor chair five years ago this week.
"It was simple, but it was a great piece of advice," recalls Baier. "It's not a personality driven show -- it's a news driven show with analysis at the end from professionals who have covered and written about Washington for decades. It's an equation that works."
An article at Yahoo! Finance notes, "Special Report is the rare example of a show that earns primetime-esque ratings (averaging more than 2 million a night) in a non-primetime slot. The program was up double-digits in both total viewers and in the key 25-54 age demographic last year. It is consistently among the top-five
cable news programs," reports Brett LoGiurato.
Asked about memorable moments in his post, Baier says, "Tough to choose one. But, definitely my sit-down with President Obama in March of 2010. Those were big stakes. I think it was a memorable interview, conducted at a pivotal moment -- right when the Affordable Care Act was passing Congress. I was pressing President Obama for answers about how his health care law would work, on the eve of its final passage. Hindsight shows these were important exchanges that he and I had. In 2012, I pressed Governor Romney on his healthcare plan when he was Republican frontrunner and that was another memorable interview for me ... leading up to moderating 5 Presidential debates that primary season was a real thrill."
Read more here.
An English (composition) and political science double major at DePauw, Baier captained the Tiger golf team and was among the first students to work in the then-new Center for Contemporary Media. While a DePauw student, he interned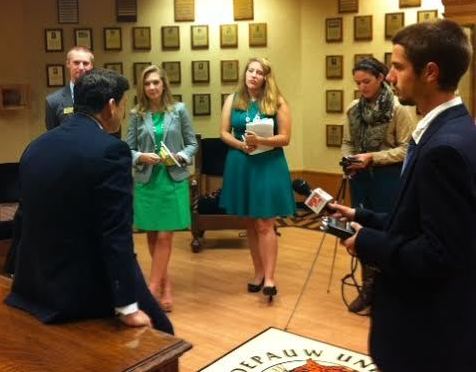 with Bernard Shaw at CNN and landed his first professional job at WJWJ-TV (PBS) in Beaufort, South Carolina. He also worked at WREX (NBC) in Rockford, Illinois, and WRAL (CBS) in Raleigh, North Carolina, before joining Fox in 1998. (photo: Baier meets with DePauw student journalists during an October 2013 campus visit)
The journalist's book, Special Heart: A Journey of Faith, Hope, Courage & Love, will be published in June.
Baier returned to DePauw for Old Gold on October 12, 2013, and spoke as part of the Timothy and Sharon Ubben Lecture Series. The talk is summarized here; a video montage is embedded below.
Back