Kelsey Haller '17 is DePauw's Second SITE Winner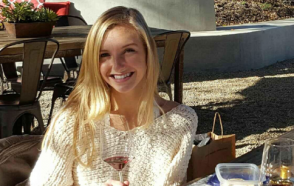 May 15, 2017
Italian minor Kelsey Haller '17 will travel to Milan as the recipient of a competitive internship to teach English in an Italian school. Coordinated by the Italian Embassy and run by the Italian Ministry of Education, the year-long SITE Program (Study, Intercultural Training and Experience) accepts approximately 40 students each year from a consortium of top U.S. universities.
Haller's experience in Italian snowballed as a student. She decided to take Italian courses at DePauw after having taken three years of high school Spanish, and with encouragement from Associate Professor of Francesca Seaman, she continued taking courses to complete the minor. As a junior, Haller learned about a summer language-immersion program that Seaman runs in Grado, Italy, and decided to apply.
"Studying abroad in Grado was unbelievable, and I could not get enough of the Italian culture and language," Haller says. "I had the pleasure of staying with a host family for two months and established close friendships with the people of Grado. I learned how to make risotto, homemade pasta, pizzas and gelato recipes from my host parents. We sat at the table for dinner every night with a glass of wine, salad, bread and a different main dish. After dinner, we often played a card game called 'Machiavelli.' I will never forget my time in Grado or the people that I met – my experience was simply life-changing."
When Seaman raised the possibility of applying for a paid return trip, Haller didn't hesitate.
"I have a strong passion for the Italian culture," she says. "The opportunity to teach in Milan will allow me to further my appreciation for the country while improving my Italian speaking skills and hopefully becoming fluent."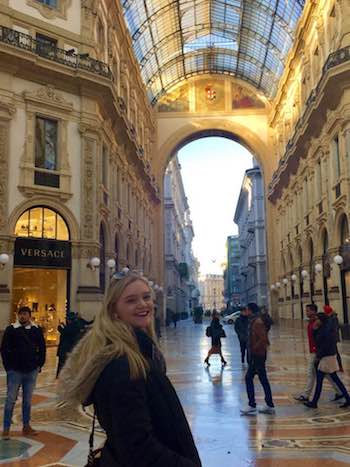 Haller is the second DePauw student in as many years to receive a SITE Program internship. Olivia Muller '16, a Management Fellow at DePauw, is presently finishing her year in Crema, Italy, teaching English, economics and political science to secondary school students.
"My experience in the SITE program has been fantastic," Muller writes. "Each school in SITE is different as Italy has a more specialized education system, and they match each teacher based on their degree or other training. My school is business and economics focused, and my job is to expand the students' knowledge of certain concepts while teaching them practical vocabulary.
"The best part has been getting to know my students. They work very hard and are very eager to learn. Being a teacher can be tough sometimes, but I am fortunate to have classes that always reward me with their enthusiasm. Although it can be a challenge, I was prepared very well by Francesca Seaman and the Italian department at DePauw."
Muller plans to attend law school in the U.S. next year, then return to working abroad.