DePauw to Host Technology Symposium, February 8-9
January 21, 2002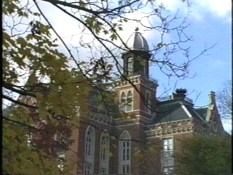 January 21, 2002, Greencastle, Ind. - DePauw University, ranked in the top 10% of the nation's small colleges for its use of technology, will host the third annual Technology Symposium February 8-9, on the DePauw campus and the Walden Inn. Sponsored by the University and the Great Lakes College Association (GLCA), the symposium is partially funded through a grant from the Andrew W. Mellon Foundation. It will encourage dialogue on the place of technology in the service of the mission of a liberal arts college.
The focus of this year's symposium will be: "Creating and Supporting Digital Learning Through Collaboration." According to Carl P. Singer, professor and chair of computer science at DePauw, the two day event will address a number of issues and questions, including:
How colleagues, faculty, staff and students from different campuses can work together to teach and support new courses.
How do we successfully support mature and new digital based pedagogies through collaboration within our institutions?
And, what new applications are being used to enhance teaching and learning today?
Featured speakers will include:
Bryan Alexander, assistant professor of English at Centenary College in Shreveport, Louisiana. Professor Alexander's courses include Gothic Literature, 18th Century Literature, and Cyberculture, and he is recognized as an authority on digital cultures and academic collaboration.
Lisa Janicke Hinchliffe, library instruction coordinator and associate professor at Milner Library, Illinois State University. Hinchliffe is responsible for leading all the library instruction programs of the library and is directly responsible for managing the instruction for general education. Her research areas include classroom design, information literacy, and student transition.
JoEllen Parker is president of the Great Lakes Colleges Association. In her tenure as President, she has made technology initiatives a cornerstone of the organization.
Nancy Millichap is the new director of the Midwest Instructional Technology Center, a cooperative venture of Assocated Colleges of the Midwest, and the Great Lakes Colleges Association and former assistant director of user and information Services at IHETS (the Indiana Higher Education Telecommunication System).
For information on the symposium, including the schedule and registration information, click here. To read about DePauw's showing in the Yahoo! Internet Life survey of America's Most Wired Colleges, click here.
Back