More Students Applying & Committing Early to DePauw Than Ever Before
March 20, 2002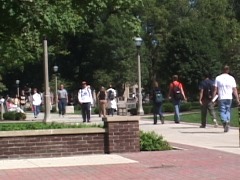 March 20, 2002, Greencastle, Ind. - The latest figures from DePauw University's Office of Admission show that 3,225 completed applications have been received for admission in the fall, a 10% increase from the level of a year ago (2,923), which was an all-time record for the University. To date, DePauw has received 225 enrollment deposits compared with 151 a year ago, a 49% increase.
Applications have come from 47 states and 1,293 high schools. DePauw has also never had a better year in attracting international students. Eighty-one completed applications have been received from 30 countries, more than double the year ago total of international applications.
"The quality of the applicants continues to be stellar, in fact, the best ever," reports Madeleine Eagon, vice president of admission and financial aid.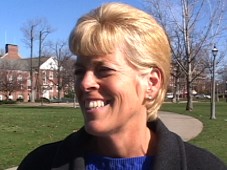 "The median SAT scores of admitted students has increased to 610 verbal and 620 math. Their median grade point average is 3.72 and they rank in the 92nd percentile of their class. It's a most impressive group of students who are academically talented, involved in extracurricular activities and their communities, and diverse."
Multicultural applications have increased 5% over a year ago, primarily among Asian American students, who represent 15% of this year's applicant pool.
The Honors and Fellows programs are also having banner years, with total applications up 33%. Interest in the Holton Memorial Scholarship has reached a new high, as 25% of the applicant pool (810 students) aspired for the award.
Eagon believes DePauw's academic reputation, individual attention (a faculty/student ratio of one to ten), state-of-the-art facilities, and the University's ranking as a top tier national liberal arts college by U.S. News & World Report (click here) are combining to lead more students than ever to apply to DePauw, and to make it their first choice for college. "There has never been a better time to be at DePauw," she says. "Young people are seeing the opportunities that await them here, and learning of the uncommon success that DePauw graduates have in the world. That's clear from the applications we're seeing -- both the volume and quality of them."
Back