No Cause Yet for Rector Fire; Students Begin Reclaiming Possessions
April 8, 2002
April 8, 2002, Greencastle, Ind. - As investigators combed through the charred fourth floor of Rector Hall, working to pinpoint the cause of Sunday's fire, the DePauw University students who lived in the residence hall were briefly allowed to enter some areas of the building and reclaim their belongings. Sophomore Chris May lived on the third floor of Rector (he is seen below in the room with his father), and was pleasantly surprised by the condition of his room.

[DOWNLOAD VIDEO: "Pretty Lucky" 753KB]

[DOWNLOAD AUDIO: "Pretty Lucky" 348KB] "I'm pretty lucky because all the damage that was done is I had some water coming from both walls, but
other than that, my clothes are gonna be fine, smoke should come out of those and everything else is saved including my most prized possessions, my autographed Bob Knight books that I had just gotten the day before. Perfect. So, I'm happy," May said as he cleared out his room. FOR LATEST STUDENT & PARENT INFORMATION click here
The fourth floor, where the fire started and where the damage is most severe, was off-limits to students, but they could ask firefighters to retrieve items from their rooms. Students, accompanied by firefighters, were allowed to enter areas of the first, second and third floors, which were soaked by the water used to
put out the fire, but to many residents, in better shape than they'd imagined. As she cleared out her second floor room, sophomore Cheryl Young (seen at left) found her belongings intact, but salvageable.

[DOWNLOAD VIDEO: "Very Fortunate" 338KB]

[DOWNLOAD VIDEO: "Not That Bad" 298KB]

[DOWNLOAD AUDIO: "Not That Bad" 135KB] "My clothes are soaked and everything's a little wet, (the) computer's wet... I don't know if it works, but, it's all not that bad."
The students' retrieval efforts were halted mid-Monday afternoon when authorities raised concerns about slick stairs and high winds, which could potentially loose shingles and other materials from the building into the parking lot below. For now, resident assistants can go in and get items for students. The building will be re-opened to students at 1 p.m. Tuesday.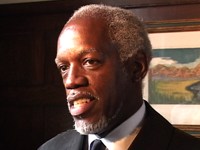 Temporary accomodations have been found for all of the displaced students, and more than half of the students have been moved to rooms where they can spend the remainder of the semester, according to vice president of student services James Lincoln. He says permanent arrangements for the remaining 45 or so students will be secured soon. The University is asking the affected residents to make an inventory of what was lost in the fire and submit it to DePauw and to the insurer of their family's home. Lincoln announced that the University

[DOWNLOAD VIDEO: "Student Assistance" 612KB]

[DOWNLOAD AUDIO: "Student Assistance" 282KB] "is setting up what we're calling the Rector Hall Fire Fund for Displaced Students, and that will positively impact students in that we will provide grants and loans to students. If they don't have insurance, those will be the students that we will want to help most."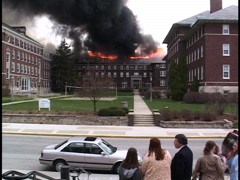 All students safely escaped the residence hall, where the fire began just before 7:45 Sunday morning. Two firefighters were slightly injured battling the flames, which engulfed the top of the building. Crews from 12 different fire departments, about 100 firefighters in all, battled the blaze. Smoke could be seen from as far as ten miles away.
The cause of the fire remains under investigation. This afternoon, the State Fire Marshal's office issued a statement that the cause of Sunday's fire is "undetermined" as "all electrical appliances have not been ruled out." Greencastle Fire Chief Bill Newgent says it is

[DOWNLOAD VIDEO: "The Investigation" 463KB]

[DOWNLOAD AUDIO: "The Investigation" 213KB] "not a suspicious fire," meaning arson has been ruled out.
As investigators continue their work, the DePauw family continues to
receive overwhelming support. Area businesses have donated food and other supplies to the displaced students, housing offers continue to pour in, and parents, alumni and other friends of the University have been e-mailing and phoning in well-wishes. The American Red Cross is on campus providing relief services. Providing other key support have been faculty members and DePauw students who were not residents of Rector, but who have brought donations of food, supplies and their time to the relief center in the Union Building.

[DOWNLOAD VIDEO: "Incredible Support" 593KB]

[DOWNLOAD AUDIO: "Incredible Support" 270KB] "The students have really been wonderful in helping their peers out, so we're getting a lot of good support," says Lincoln.
A new Associated Press story is available by clicking here. You can read more coverage from WTHR and MSNBC.com
by clicking here. A Los Angeles Times story is accessible here. A brief item in today's Washington Post can be read here.
Yesterday's original story on the Rector Hall fire, complete with audio and video, also contains a number of story links. You can reach it by clicking here.
Coverage of Sunday's fire included a brief clip on CNN Headline News. The story, which mistakenly stated that more than 300 students were left without a room (116 was the actual number), includes aerial video of the dormitory and can be viewed here:

[DOWNLOAD VIDEO: "CNN Clip" 817KB] .
Back