President Bush Awards Richard Peck '56 National Humanities Medal
April 22, 2002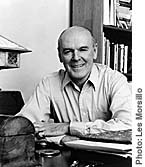 April 28, 2002, Greencastle, Ind. - "Richard Peck has written more than 25 novels for younger readers which stress the importance of taking responsibility for one's actions," said President George W. Bush as he presented Peck, a 1956 graduate of DePauw University, with the National Humanities Medal in ceremonies at DAR Constitution Hall in the nation's capital today. The presentation to 2001 honorees was delayed because of the events of September 11.
Peck, who the National Endowment for the Humanities calls "one of America's most respected writers for young adults," won the 2001 Newbery Medal for A Year Down Yonder. You can read more about Peck, and listen to an interview where he discusses his career and his DePauw experience, in this previous story.
Other recipients of the 2001 National Humanities Medal were artist Jose Cisneros, psychiatrist Robert Coles, historian William Manchester, musicologist Eileen Jackson Southern, author Tom Wolfe and Sharon Darling of the

National Center for Family Literacy. The National Trust for Historic Preservation was also honored.
"I know I speak on behalf of all Americans when I thank you so much for entertaining, inspiring, and informing us with your careers," President Bush said at the conclusion of the ceremony, which was marked by the unique musical collaboration of cellist and 2001 National Arts Medal recipient Yo-Yo Ma and national security adviser Condoleezza Rice.
You can read more in a Washington Post article, accessible by clicking here.
Back