Friendships, Past, Present and Record Gifts Celebrated at Alumni Reunion Weekend 2002
June 1, 2002
June 1, 2002, Greencastle, Ind. - DePauw University's Class of 1952 returned for their fiftieth reunion and left holding a record. The golden anniversary class announced a collective Annual Fund gift of $689,217 for this year, and cumulative gifts (including Annual Fund and deferred commitments) of $12,196,130, the most ever contributed by a class in DePauw's history.
In the Golden Anniversary speech to his classmates, the Class of 1952's Paul H. Lee Jr. of Winnetka, Illinois recalled the words of Russell Humbert, who was DePauw's president fifty years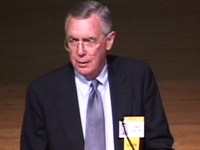 ago, and spoke at an alumni dinner in Chicago a few years later.
[DOWNLOAD VIDEO: "Class of '52" 1400KB] "As he appealed for support for DePauw, one statement he made that evening [has] stuck with me ever since: 'Your diploma is only as good as today's diploma'. Although our class is not concerned with resumes at this stage of the game, the prestige of a DePauw diploma is a source of pride for us all. To President Bob Bottoms, to the Board of Trustees including classmates Jack Anderson and Jim Emison, and to all the good people here who make DePauw the school it is today, the Class of '52 says 'thank you.'"
The Silver Anniversary Reunion speaker, W. Tobin McClamroch of Indianapolis,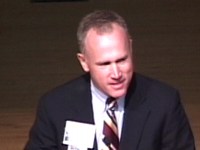 reminded his fellow members of the Class of 1977 that when they arrived on campus in the fall of 1973, America was in transition, with the Watergate scandal, the end of the Vietnam War, musical tastes that were moving toward disco, and fashions that eschewed tradition and began to favor silk shirts and leisure suits.
[DOWNLOAD VIDEO: "Class of '77" 1500KB] "After last September, the world is again in transition and somewhat confusing. We in the Class of 1977 were fortunate enough to have been taught the liberal arts by experienced full professors who cared deeply about their subjects and their students. They taught us to analyze problems, to think critically, to appreciate beauty. In short, they made us leaders in a world that will always be in transition," McClamroch said. "Today we not only remember and reflect, we reconnect. Let's enjoy our success and friendships. Here's to you, Old DePauw."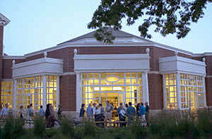 Alumni Citations were presented to Carol Nelson Johnson '52, Carleton E. Dangremond Jr., M.D. '52, Margaret "Peg" S. Sant'Ambrogio '57, Helen L. Poorman '82, and Stephanie Paine Crossin '87. About 2,000 alumni returned to campus for the events that began Wednesday evening and continue through Sunday.
An honorary doctorate was also presented to jazz pianist George Shearing, whose wife, Ellie, is a 1955 DePauw graduate. Shearing delighted the audience with several musical selections; a summary and video clips are available here.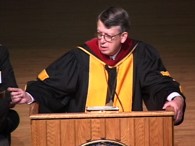 [DOWNLOAD VIDEO: "Nation's Elite" 649KB]
[DOWNLOAD VIDEO: "Thanks" 928KB] "We could not have become who we have become without you," DePauw President Robert G. Bottoms told this morning's convocation. "You have believed that young people are worthy of your investment. We all live in a time when the returns on the stock market are lower than we wish, but we can walk across this campus and say that our investments in DePauw are giving returns that are at an all-time high."
Back