New Duplexes Near Completion; Rector Reopening Delayed
July 24, 2002
July 25, 2002, Greencastle, Ind. -

[DOWNLOAD VIDEO: "Hazy, Not Lazy" 228KB] "Summer days at DePauw may be hazy, but they're certainly not lazy," reported WTHR/Channel 13's Rich Van Wyk as he reported on the University's efforts to prepare for the upcoming school year in the wake of the April 7 fire at its oldest dormitory, Rector Hall (read more

[DOWNLOAD VIDEO: "Flurry of Activity" 304KB] )
Nine two-story d
uplexes, that will house eight upperclass students each, are quickly taking shape behind Roy O. West Library on Indiana and Jackson Streets between Hill and Larabee Streets. The units, with four single units on each floor, will include, as the WTHR report explained,

[DOWNLOAD VIDEO: "A Look Inside" 289KB] "private bedrooms, air conditioning, a kitchen, a bath and a half for four,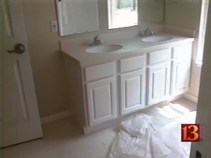 not 40 students [who might share a large bathroom in a traditional dormitory]; nothing like life in the dorm."
The duplexes will provide critical student living space as renovations are made to Rector Hall, and subsequently, to neighboring Lucy Rowland and Mason Halls, but are being built to be a long-term housing option for DePauw. The new buildings were a hot commodity at the student
housing lottery in the spring. Brad Quinton (seen at right), who will be a junior this fall, is among the 72 students who will move in to the new duplexes in a few weeks. He told the television station,

[DOWNLOAD VIDEO: "Brad Quinton" 206KB] "I'm really excited. They're looking really nice, too." Work on the new units didn't begin until after the end of the school year, and reporter Van Wyk stated,

[DOWNLOAD VIDEO: "Truly Remarkable" 549KB] "building 9 new duplexes in less than four months, that is truly remarkable." DePauw is also leasing the Little Rock Apartments this year to provide additional short-term housing for students.
Meanwhile, work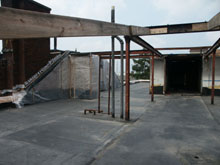 on Rector Hall has not yet begun. The insurance company has not yet returned the building to the University, and very wet spring weather has been a major contributing cause to delays. Heavy rains exacerbated water damage caused by the fire, necessitating the removal of all of the dormitory's interior walls. Immediately after the fire, the University targeted a February 2003 completion date for Rector repairs. The delays, says director of business Dick Shuck, now has DePauw hoping the building will be ready by

[DOWNLOAD VIDEO: "Dick Shuck" 259KB] "August or September of 2003." Van Wyk said he "gets the impression that you're just itching to get to work in there," and Shuck responded,

[DOWNLOAD AUDIO:
"Itching" 84KB]"You're right, we are!"
You can read a story from WTHR posted on MSNBC.com by clicking here.
The entering class, which numbers 703 as of today, will arrive on campus August 17. Assistant Dean of Students and Director of Housing Dorian Shager says "We have plenty of room for everyone, and thank the construction crews and many others like Wal-Mart (read more here) who have helped us regroup after the fire and prepare for the school year to come." As WTHR's Van Wyk told his viewers, "I've never seen so many people working so quickly. [At] that one construction site, it was either lead, follow or get run over by a piece of equipment," he said with a smile.
Source: WTHR (NBC)/Indianapolis
Back