A Second Round of Wal-Mart Generosity Helps With Rector Fire Recovery
June 28, 2002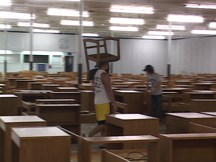 June 28, 2002, Greencastle, Ind. - As DePauw University prepares to welcome students back to campus in six weeks, it owes a large debt of gratitude to Wal-Mart for making those preparations easier than they would be otherwise. The company has allowed the University to use its former Greencastle store, rent-free, as a much needed warehouse in the wake of the April 7 fire at Rector Hall. The store in Putnam Plaza, which was closed last year when a new Wal-Mart SuperCenter opened in Greencastle, now holds furniture and equipment that had to be removed from the fire-ravaged dormitory. All new furniture that's been ordered to replace items lost in the fire is also being shipped to the building.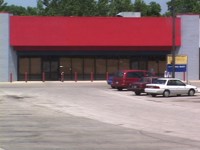 "Without the use of the old Wal-Mart store, the university would have had to transport most of this furniture and equipment to Plainfield [about 40 miles away] or Indianapolis [approximately 50 miles away] to warehouse," according to Dick Shuck, director of business services at DePauw.
[DOWNLOAD VIDEO: "Very Critical" 587KB]Shuck says that not having the building "would have meant a lot of things that we were able to salvage might not have been salvaged, they might have gone directly into a dumpster. So it became very critical in the overall process that we were going through to have this available, really sitting in our own backyard."
Of Wal-Mart, Shuck says,
[DOWNLOAD VIDEO: "So Generous" 732KB]
[DOWNLOAD AUDIO: "So Generous" 337KB]"They've been so generous and so willing to give us as much access as is needed... Every time that I've called them they've been willing to step forward and assist us in any way that they could."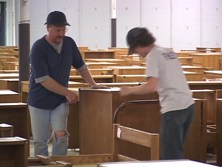 "Wal-Mart continues to be a great neighbor," added Robert G. Bottoms, DePauw's President. "Within an hour or two after the fire at Rector Hall, the company came forward with gift certificates for the displaced students. By allowing us to use their former store free of charge at a time when we really need the space to prepare for the challenges of a new school year without use of a dorm, Wal-Mart is again providing an invaluable assist."
No students were injured in the fire, which caused heavy damage to the 85 year old residence hall. You can read more about it by clicking here and here.
Back