US, EU & Amnesty International Condemn Second Conviction of Former DePauw Prof. Saad Eddin Ibrahim
July 30, 2002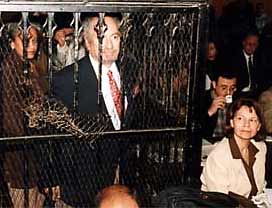 July 30, 2002, Greencastle, Ind. - ``I am as determined to fight on as ever for freedom and democracy and pay whatever it takes,'' said former DePauw University professor Saad Eddin Ibrahim Tuesday in Cairo as he was convicted for a second time of several charges including tarnishing Egypt's image and was sentenced to seven years in prison. The United States and Amnesty International were both quick to criticize the verdict. As the Associated Press reports, "Human-rights organizations have said the case against Ibrahim is aimed at limiting political debate in Egypt." Ibrahim, a vocal advocate of democratic reform and human rights in that country, was first convicted of the charges last year, but an appeals court ordered a retrial. Dr. Ibrahim says he will appeal one more time.
Saad Eddin Ibrahim, 63, taught at DePauw University from 1967 to 1974 and is now a sociology professor at the American University of Cairo. The AP story, distributed worldwide, notes that "Barbara [Lethem] Ibrahim [seen at right of Dr. Ibrahim in top photo], a native of Palatine, Illinois, met her husband when she was a student and he a teacher at Indiana's DePauw University."
Mrs. Ibrahim, a 1971 DePauw graduate, called Monday ``the saddest day for Egypt that I have seen in the 27 years I lived in this country. The rule of law died today in Egypt.''
As the AP reported, "The U.S. charge d'affaires in Cairo, Gordon Gray, issued a statement expressing 'disappointment' at the verdict and reiterating U.S. concerns about the 'fairness of the process' against Ibrahim." White House spokesman Sean McCormack says the Bush administration has notifed the Egyptian government that it is unhappy with the trial and verdict. The European Union's external relations commissioner, Chris Patten, called the trial "a disgrace," adding, "The European Commission has no evidence of the alleged falsification of documents which seems to have been central to the case for the prosecution. We deplore the continued use of state security courts to prosecute cases of this nature." John Gerhart, president of the American University in Cairo, says Ibrahim "courageously pursued his vocation as a committed scholar while remaining at all times a patriotic Egyptian, loyally and effectively representing his country in accordance with its most notable scholarly traditions."
In an interview today, Barbara Ibrahim told the AP, "I assume at one level I need to stay strong. I believe when you are angry and feeling a sense of outrage, you don't channel that in pity or tears, but constructive action of some kind." After the verdict was announced, Mrs. Ibrahim says she was able to briefly visit her husband in a detention room. "Saad was drenched in sweat in a horrible room. He was very subdued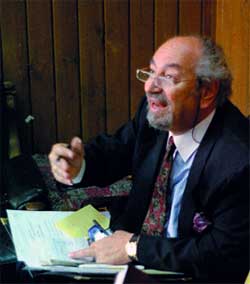 and very quite but encouraging us not to lose hope and to continue his work."
DePauw alumni and faculty have staged "teach-ins" the past two summers to show support for Dr. Ibrahim, and raised funds for his defense during a benefit concert over Alumni Reunion Weekend 2002. The alumni efforts were noted in a Middle East Times story that you can learn more about by clicking here.
You can read more about Barbara Ibrahim's post-trial reaction in the complete AP story by clicking here.
Stories on the verdict itself can be found on the Washington Post Web site here and from the Atlanta Journal-Constitution here. Yet another Associated Press article can be accessed by here. A Web site that supports Dr. Ibrahim and provides extensive information on him can be found by clicking here. And, Amnesty International provides background on the professor and his case here.
Back