Another Paper Calls for US & Citizens to Support Jailed Former DePauw Professor
August 7, 2002
August 7, 2002, Greencastle, Ind. - An editorial in the August 6 Bloomington Herald-Times calls on the people of Indiana to support former DePauw University professor Saad Eddin Ibrahim, who was convicted last week in an Egyptian trial that has been condemned by human rights groups and democratic nations, including the U.S. "Why should citizens of south-central Indiana care about a political activist sentenced to seven years in an Egyptian prison?," the paper writes. "In the case of Saad Eddin Ibrahim, there are at least a couple of reasons we should care. The first is that Ibrahim holds dual U.S.-Egyptian citizenship and is a former professor at DePauw University in Greencastle. His mother-in-law and sister-in-law live in Bloomington. The pain he is enduring is shared by his friends and family here. The second, and larger, reason we should be outraged is that Ibrahim is being punished for standing up for the values the United States represents."
The editorial notes that "Among the 'crimes' Ibrahim is being punished for are seeking protection for Egypt's Christians and registering citizens to vote. Ibrahim is 63 and ailing. The prison sentence could well be a death sentence."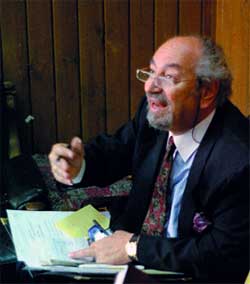 Like another editorial published in Sunday's New York Times (read more here), the Herald-Times suggests the Bush administration has not been vocal enough in its protests, stating, "the Ibrahim case makes the U.S. look like a hypocrite. How can we threaten war to dislodge the repressive regime of Saddam Hussein in Iraq, yet look the other way regarding repression in Egypt?" Dr. Ibrahim, who taught at DePauw from 1967 to 1974, is married to 1971 DePauw alumna Barbara (Lethem) Ibrahim.
You can read the essay in its entirety by clicking here. A story on Dr. Ibrahim's conviction can be accessed here.
Back