Student Station WGRE Ranked Among Nation's Best
August 20, 2002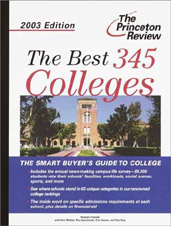 August 20, 2002, Greencastle, Ind. - WGRE, DePauw's student-managed and operated radio station, is the sixth best college station in the United States, according to the 2003 edition of the Princeton Review's annual guide to The Best 345 Colleges, which was released today. The book ranks colleges and universities among the best 20 and worst 20 in 63 different categories. DePauw's station is ranked #6 under "great radio stations."
The guide also notes that DePauw is highly selective in admitting students, and gives DePauw an academic rating of 88 (on a scale of 60-100 with 100 being best). By comparison, Stanford University, ranked "toughest to get into" in this year's book, has a 91 score. Indiana University in Bloomington netted a 70.
The editors write, "A unique Winter Term during which students can 'do things you can't do in the classroom' and excellent financial assistance separate this small liberal arts school from the pack (many students say they chose DePauw over the likes of Harvard and Vanderbilt because they couldn't pass up the bargain). A gargantuan Greek system provides most campus social life and former Vice President Dan Quayle and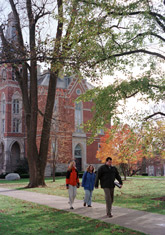 Washington powerbroker Vernon Jordan are two of DePauw's prominent alums."

The book compiles results of unscientific surveys of students conducted on each campus. "It is based 100 percent on what students say," Robert Franek, the Princeton Review's editorial director says, adding that all 345 are outstanding schools.
You can order the book at Barnes & Noble.com and Amazon.com.
DePauw has been ranked in the top tier of national liberal arts colleges by U.S. News & World Report for two consecutive years, and is currently ranked as the second "best value" nationally. To learn more, click here.
Back