Join Writer/Professor Lili Wright for Wednesday Night Reading
September 13, 2002
September 13, 2002, Greencastle, Ind. - Lili Wright, assistant professor of English at DePauw University, will read from her memoir, Learning to Float, Wednesday, September 18, 2002 at 7:30 p.m. in Thompson Recital Hall of the Performing Arts Center on the DePauw campus. The event is free and open to the public.
Published by Broadway Books in June, and described by Booklist as "Daring, reflective, and self-deprecating in a most endearing manner," Learning to Float was on a number of publications' summer reading lists, including the Washington Post. "Wright is funny and truthful about the fickle qualities of love and the importance of first 'learning to float'," Booklist noted.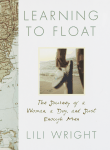 Lili Wright spent ten years as a journalist in New York, New Jersey, Connecticut, Utah, and Mexico. Her work has appeared in newspapers nationwide, including the New York Times and the Baltimore Sun. A graduate of Columbia University's M.F.A. program, she currently teaches creative writing and journalism at DePauw and lives in Greencastle with her husband and daughter.
You can learn more about the book and its author in this story, which includes video and audio clips.
Back