Professor Lili Wright's Learning to Float Receives Pre-Release Praise
May 29, 2002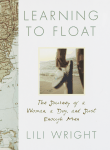 May 29, 2002, Greencastle, Ind. -

[DOWNLOAD VIDEO: "You Can Do It" 476KB]

[DOWNLOAD AUDIO: "You Can Do It" 218KB] "It just takes time and dedication and I think it's good for students to see that their writing teachers write and that they can get published," says Lili Wright, assistant professor of English at DePauw University, whose first book, Learning to Float, will be published by Broadway Books, an imprint of Random House, on June 11.
The book, which Wright says she started five years ago
[DOWNLOAD VIDEO: "You Can Do It" 476KB]
[DOWNLOAD VIDEO: "The Project" 480KB] "as my M.F.A. thesis at Columbia [University]," is summarized by the publisher, "Burned out on urban life, Lili Wright packs up her dog and leaves New York for a journey that spans from Maine to North Carolina to Florida. Along the way, Lili revisits her past and relives old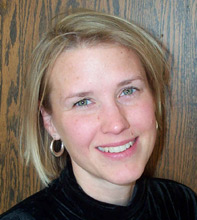 relationships with journal entries that are clearly written, wonderfully humorous, and scrupulously detailed."
Many early reviews have been positive. The summer issue of Book magazine lists Learning to Float as one of "Summer's Hottest Picks," stating, "Lili Wright's debut, insightfully explores the excruciating process of finding love and discovering yourself. The thirtysomething journalist and professor shares her experiences driving down the East Coast from Maine to Key West, Florida."
Booklist's Elsa Gaztambide calls the memoir, "Daring, reflective, and self-deprecating in a most endearing manner, Wright is funny and truthful about the fickle qualities of love and the importance of first 'learning to float.'"
In an article entitled Summer Reading: A Forecast," the Washington Post offers what it describes as "by no means a comprehensive guide to reading in the months ahead. But it might be, in a season that rains summer reading, a helpful weather advisory," telling of upcoming offerings by Mary Higgins Clark, Jackie Collins and Tom Clancy,

among other well-known authors. But the story also previews "fiction that may surprise you," including Wright's book, in which "a burned-out New Yorker decides to take her dog, leave her two men behind, and drive from Maine to Key West to find out what she can about love." You can read the entire Post article by clicking here.
The San Jose Mercury News notes, "if you're looking for something new, here are some of the titles expected to show up in the bookstores over the next three months -- the more substantial ones are listed first, followed by the books for the beach bag." Learning to Float is listed among the "more substantial" releases (read more here). (BONUS CLIP:
[DOWNLOAD AUDIO: "Lili Wright on Reviews" 347KB])
Lili Wright will travel to several cities to promote her new book this summer. Her tour itinerary includes:
Winnetka, Illinois: Friday, June 14, 12 p.m., Book Stall at Chestnut Court, 811 Elm Street (847-446-8880, RSVP required)
Carmel, Indiana: Monday, June 17, 7 p.m., Barnes & Noble, 14709 US 31 North (317-844-2501)
Fort Wayne, Indiana: Wednesday, June 19, 7 p.m., Million Story Book Company, Covington Plaza, 6360 W. Jefferson Boulevard (219-436-6844)
New York City/The Hamptons: Sunday, June 23, 3 p.m., Book Hampton, 20 Main Street, East Hampton, NY (631-324-4939)
West Hartford, Connecticut: Monday, June 24, 12 p.m., Bookworm, 968 Farmington Avenue (860-233-2653)
Block Island, Rhode Island: Sunday, July 14, 7 p.m., Book Nook of Block Island (401-466-2993)
Rehoboth Beach, Delaware: Monday, July 15, 7 p.m., Browseabout Books & Cafe, 133 Rehoboth Avenue (302-226-2665)
Lili Wright spent ten years as a journalist in New York, New Jersey, Connecticut, Utah, and Mexico.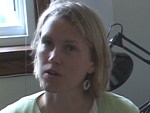 Her work has appeared in newspapers nationwide, including the New York Times and the Baltimore Sun. A graduate of Columbia University's M.F.A. program, she currently teaches creative writing and journalism at DePauw and lives in Greencastle with her husband and daughter.
Wright says the greatest joy has been
[DOWNLOAD VIDEO: "Simple Joys" 1100KB] "writing it. The simple joys of getting a sentence that you really like." She hopes the publication of Learning to Float will encourage DePauw writing students, who she says,
[DOWNLOAD VIDEO: "Talented Students" 601KB] "have a lot of talent. I've already seen some of my better students going on to writing programs, and I know they're going to get published ... It's an exciting thing to do and I hope that [this] will inspire them so they see that it's possible for them."
You can read more about Learning to Float and pre-order the book at Amazon.com and Barnes & Noble.com. It's also available at Fine Print Bookstore on the square in Greencastle.
An excerpt of the book is available online by clicking here. You can access the publisher's Web page here.
Back