Black Issues in Higher Education Notes DePauw's Posse Participation
January 9, 2003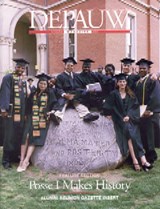 January 9, 2003, Greencastle, Ind. - "'We're primarily concerned with student success,' says Madeleine Eagon, vice president of admission and financial aid at DePauw University" in a story Black Issues in Higher Educationon the Posse program. "This is DePauw's seventh year as a Posse partner institution. For the past couple of years they have sponsored two Posse teams annually: one from New York and another from Chicago."
The article by Cheryl D. Fields notes that Posse is designed "to take urban kids who don't fit the typical merit scholarship profile, but showed promise, and send them as teams or 'Posses' to a college that would ordinarily overlook them." Today, there are 539 Posse scholars on 17 college campuses. "Posse's innovative recruitment, preparation and retention strategies have produced an impressive 90 percent retention rate-- a track record that explains why the number of students and institutions lining up to engage in its services is growing. In New York alone, some 1,400 students have been nominated for next year's 90 slots." DePauw University has been affiliated with The Posse Foundation since 1996; there are currently 60 Posse scholars enrolled at DePauw.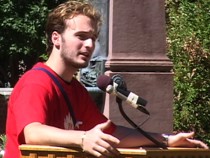 DePauw's Eagon, whose photograph accompanies the magazine article, tells Black Issues, "Our current student body president is a Posse student from New York." That student, senior Edmond Krasniqi (seen at right), organized and led a ceremony on East College lawn to commemorate the one year anniversary of the September 11 terrorist attacks (read more here).
You can learn more about the Posse program by clicking here, or by visiting the Posse Foundation's Web site, accessible here.
(Posse photo at top of story by Marilyn E. Culler)
Back