Family Honors Parent in Naming of Rector Village's Center Building
April 25, 2003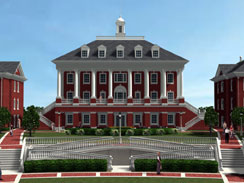 April 25, 2003, Greencastle, Ind. - J. Gilbert and Louella Reese of Granville, Ohio, sent their five children to DePauw University. Now they and their children are contributing funds toward a new residence hall at DePauw that will bear the family name.
"The Reese family," DePauw President Robert G. Bottoms said, "exemplifies the strength of the DePauw tradition. They benefited from the stimulus of the DePauw experience and now are helping to enhance that experience for future generations."
The center building in a group of seven residence units that comprise Rector Village, Reese Hall includes a commons area on the ground level that will serve the entire complex. On each of the upper two floors are study/bedrooms for eight students, a kitchen, gathering room, and two bathrooms. The commons area includes a student lounge, game room, laundry facilities and offices for Student Services.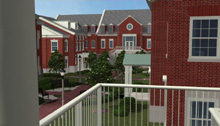 Rector Village replaces the 130-bed Rector Hall, built in 1917 and damaged beyond repair in a fire on April 7, 2002 (read more here and here). In addition to Reese Hall, there are six other suite-style residences. Four house 24 students in a configuration similar to that of Reese Hall and two others house 12 each. Altogether, Rector Village will accommodate 136 students (read more here).
J. Gilbert "Gib" Reese has been involved in banking and law in Newark, Ohio for more than 50 years. Beginning in the early 1950s, he spent his extra hours attempting to enhance the quality of life for his Licking County, Ohio community. He was instrumental in bringing a branch campus of The Ohio State University to Newark by procuring the land and then raising the monies to build the first building and establishing a permanent endowment. Not satisfied with these accomplishments, he was the driving force in establishing the Central Ohio Technical College which shares the OSUN campus facilities and serves over 2,200 students. The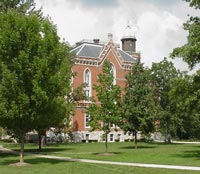 total enrollment for the campus of OSUN and COTC is now in excess of 4,500 students. The campus has five permanent buildings.
"Investing in education has always been important in our family," Mr. Reese said. "Rector Village is an innovation in residential facilities our family believes has potential to further strengthen the living and learning environment at DePauw. We make this gift," he concluded, "to express our appreciation to DePauw and invest in its future."
In addition to Mr. Reese's efforts to improve educational opportunities for the citizens of Licking County, he and his wife, Louella, have been leaders in the preservation of downtown Newark and Granville, the home of Denison University. Through their private foundation work they have established many recreational areas and bicycle trails in Licking County. There are 36 miles of recreational trails in the county connecting four towns.
Mr. Reese also finds time to serve on the Ohio Board of Regents and is very involved in assisting the Columbus campus of The Ohio State University, including the Law School where he recently established a Chair of Contracts and Entrepreneurial Law.
Mr. Reese and Louella Hodges were married in 1951. Now that their children are all grown, Lou works on various projects. Mr. and Mrs. Reese have a "hand and glove" relationship. She is the chairman of their foundation, but is always open to Mr. Reese's suggestions.
When Gay, the oldest of their children, selected a college in which to enroll, she chose DePauw University and was graduated in 1975. Soon after her sister, Sarah, matriculated and was graduated in 1976 along with her husband, Dr. John Wallace. Sarah was followed by a brother, Gilbert H. Reese, class of 1979, Lucius E. Reese,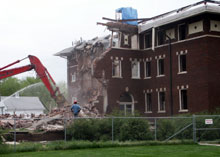 class of 1985, and Megan Reese Edwards, class of 1988. The Reese's granddaughter, Sally, currently is a second year student at DePauw.
Workers are in the process of demolishing Rector Hall, which should be completed in the next few days (read more here). Construction of the first Rector Village units, including Reese Hall, will begin in late June or early July, once the site was been cleared and prepared. Reese Hall is projected for occupancy in February, 2004, and the balance of the units by the following fall.
Back