Plans for New 'Rector Village' Announced
February 5, 2003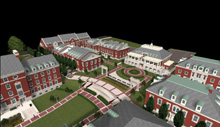 February 5, 2003, Greencastle, Ind. - Rector Hall, the 86-year-old dormitory on the DePauw University campus that was gutted by a fire last April 7, will not be rebuilt, DePauw officials said today as they announced a settlement with their insurance carrier, Indiana Insurance Company.
"The water damage suffered during the fire and from heavy rains in the weeks that followed raise considerable concerns for the long term condition of the building," said Richard Speller, vice president for finance and administration. Pending approval from the City of Greencastle, the University now plans to create a "Rector Village" of townhomes on the site where the residence hall now stands, an extension of a concept that has proved extremely popular with students.(illustrations show preliminary architectural renderings of Rector Village)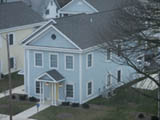 To meet the demand for housing after the Rector fire, last summer DePauw constructed nine two-story duplexes behind Roy O. West Library that house eight upperclass students each. "The students who live in the duplexes are extremely enthusiastic about them. Other students say they look forward to the day when they can reside in a duplex, and even prospective students who see the buildings say, 'We haven't seen anything this nice on any other campus,'" says DePauw President Robert G. Bottoms.
The plan is to build seven, three-story brick units that will house 136 students, including a central "amenities building," which could include social and study space and laundry facilities.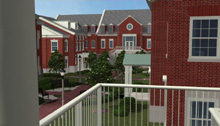 Two of the units have 12 beds, four have 24; the central building will house 16 students. All of the rooms will be single occupancy; students will share common living and kitchen spaces with others on their floor. The first buildings in Rector Village will open next spring, and the entire project should be finished by the fall of 2004. "Losing Rector Hall, and its long history, is a negative," Speller says. "But DePauw gains about 10 bed spaces and new facilities that will help attract and retain students.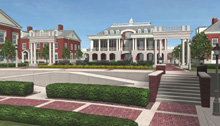 What's more it will cost 20% less per bed to construct Rector Village than it would have cost to refurbish Rector Hall, especially significant in today's tight economic environment."
It is hoped that some of the architectural features and bricks from Rector Hall can be salvaged and used to create planters and other accoutrements outside the new town homes as a way to remember the dormitory.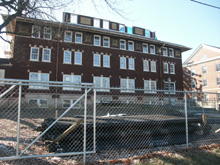 "This is a bittersweet moment in DePauw's history," President Bottoms says. "Circumstances dictate that we must tear down Rector Hall, a building that is dear to many alumni and which has served the University so well. But those same events create an opportunity for us to build upon a housing concept that has proved extremely successful, and that will help us as we continue to attract the nation's brightest students. I'm confident that all members of the DePauw family -- young and old -- will be pleased with Rector Village."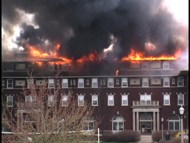 "All students safely escaped the fire at Rector Hall, but two firefighters were slightly injured battling the blaze, which took about two dozen firefighters about six hours to bring under control. The State Fire Marshal ruled the fire was caused by electrical appliances in the fourth floor room where the blaze started, but because of heavy damage in the area, investigators could not pinpoint which appliance was to blame. One hundred sixteen DePauw students lived in the dorm at the time of the fire.
The University today also announced plans to erect five additional duplexes on campus, which will be ready for occupancy in the fall. "The new duplexes will help meet the housing needs of the University, and provide more students with this popular option," says James Lincoln, vice president for student services. President Bottoms added,
[DOWNLOAD VIDEO: "More Choice" 811KB] "What has me excited... [is] the whole issue of choice. If you have a younger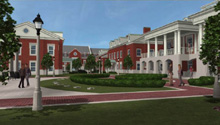 brother or sister looking at DePauw, the choices for living arrangements here will be greater when we finish than they've ever been. We have traditional dormitories, sorority and fraternity houses, duplexes on the edge of the campus and Rector Village right in the middle of campus. That's a good thing."
Read more about the fire at Rector Hall here, here and here. A story about the duplexes that opened in August can be accessed by clicking here.
Back