America's Two 'Most Ethical' Corporations are Led by DePauw Alumni
April 25, 2003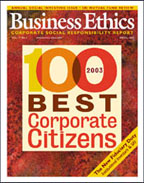 April 25, 2003, Greencastle, Ind. - The fourth annual listing of America's "100 Best Corporate Citizens," in the spring issue of Business Ethics magazine, ranks General Mills and Cummins Inc., whose CEOs are (respectively) DePauw University graduates Steve Sanger '68 and Tim Solso '69, as 1 and 2. The magazine states that although recent corporate scandals such as those involving Enron and Worldcom have created cynicism about the ethics of America's businesses, "as Supreme Court Justice Louis Brandeis once put it -- 'Sunlight is the best disinfectant.' We publish these rankings in the hope of shedding light on good corporate practices: searching not for perfect firms, but for those with practices superior to their peers."
The magazine notes, "At General Mills, the Minneapolis-based food products company, the company's two prominent areas of excellence are service to the community and to women and minorities.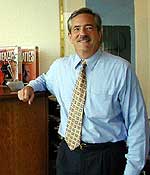 One program that exemplifies both is the funding of a partnership between Glory Foods, a minority-based food company, and the Stairstep Initiative, a community organization, to create Siyeza, Inc. A $2 million investment by General Mills created 150 jobs in the inner city of Minneapolis, in a company where employees will be given the opportunity to have an ownership stake. Unlike many other corporations, General Mills funds an organization's operating costs, a good indication of its long-term commitment to communities."
The Daily Business Journal of Youngstown, Ohio writes, "In Brazil, poor kids with no access to school used to burrow under the fence at a Cummins Inc. manufacturing plant, to steal metal they could sell for money. 'We talked to the local mayor and ended up deciding to fund the construction of a local school that now serves 800 kids,' says Tim Solso, chairman and chief executive officer of the Columbus, Indiana-based Cummins. That's the kind of initiative that helped make Cummins No. 2 this year on the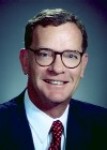 list of the 100 Best Corporate Citizens." You can read the article by clicking here.
The ranking is based on quantitative measures of corporate service to seven stakeholder groups: stockholders, employees, customers, the community, the environment, overseas stakeholders, and women and minorities. Learn more at the magazine's Web site by clicking here.
Tim Solso is a member of DePauw's Board of Trustees, and Steve Sanger hosted a Presidential Reception at General Mills in November (read more here). Sanger's company was also recently named Working Mother magazine's "Family Champion" for "making moms' needs a priority" (read more here).
Back