Emeritus Prof. James Cooper Rallies Residents to Save Historic Bridge
May 14, 2003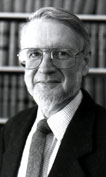 May 14, 2003, Greencastle, Ind. - "There is reason for optimism about the future of the old Wabash River bridge at New Harmony, Indiana, about 40 White and Posey county residents were told Monday night," begins a story in the Carmi Times of White County, Illinois. Barry Cleveland writes, "Dr. James L. Cooper, an emeritus professor of history at DePauw University in Greencastle, Indiana, spoke about the bridge to a group assembled at Thrall's Opera House in New Harmony. And Cooper, a nationally-known expert on historic iron and concrete bridges who has published two books on historic Indiana bridges, had encouraging words for his audience."
The article continues, "The 73-year-old bridge, he said, is 'a tremendous resource on which you could capitalize. Don't look at it as outmoded, over and done with. Think of how to integrate it so that it sustains New Harmony and parts of White County.'" Reporter Cleveland notes, "Operated for six decades by a commission authorized by Congress, the bridge receives no regular state or federal aid. In recent years, the possibility that it might be closed due to a lack of funds has been raised. Illinois provided $120,000 in the past 18 months to help keep the toll bridge operational,
but bridge commission members continue to lobby the legislatures of Illinois and Indiana, as well as Congress, to take over the span."
The complete story is accessible at the newspaper's Web site by clicking here. Read more about Jim Cooper's love of bridges here and here.
Back