President Robert G. Bottoms in Lawlor Review
June 23, 2003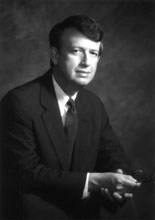 June 23, 2003, Greencastle, Ind. - "When Dr. Robert Bottoms doesn't feel like talking with the chatty person next to him on an airplane, he won't let on that he's a college president," begins an article in the Spring 2003 edition of the Lawlor Review. It continues, "'I tell them I'm in sales and they shut up,' he jokes. 'Because they don't want to be sold anything.' Yet Bottoms, who is president of DePauw University (Greencastle, Ind.), knows something that his unsuspecting fellow traveler does not: college presidents are in sales."
Dr. Bottoms, who has led DePauw since 1986, adds, "We're selling students on choosing our institution when they have a lot of choices. We're selling donors on putting their resources here when they can put them someplace else." Miriam Karmel writes, "Indeed, under Bottoms' 17-year watch, DePauw's endowment has grown and the admissions profile has improved dramatically. If that isn't sales, or marketing, as some would prefer to call it, what is? The marketing goals are straightforward: raising money and attracting the best students and faculty. A successful president does both, by leading the effort to build name recognition and defining institutional
distinctions. Bottoms is entirely unapologetic about this aspect of his job. 'We've done our best to develop the very best product we can,' he says. 'If nobody buys it, we go out of business.'"
Later, Karmel writes, "Bottoms understands that it is the president who must guard the institution's virtue and reputation from too much spin. 'The essence of the president's role in marketing is to protect the integrity of the institution,' he says. Let others worry about the type size or font, he says. His concern is that the material matches reality. 'I've been the [one saying] 'Let's just be sure our messages are authentic.' ' Bottoms offers a specific example: 'Look through our materials. There are a lot of minority faces. They are real. We didn't rent those students and faculty.'"

"More importantly." Karmel continues, "those pictures represent something essential about the school: DePauw takes diversity seriously. When Bottoms [assumed the presidency] 17 years ago, the student body was 3 percent minority and [DePauw] had one African-American employee. Today those numbers are 15 percent and 30, respectively. While Bottoms doesn't take credit for the change, he knows that he played a crucial role. 'I put it on the agenda. I pushed the faculty. We made resources available for programs in admission. But that's all I could do,' he says, regarding the push for diversity. The hard work was done by others."
However, the Reviewnotes that "his work isn't done. Now he has to get the message about multiculturalism, among other messages, out to the general public in order to distinguish DePauw from competing institutions. 'It's the president's responsibility to be sure it [the college] is what it says it is,' he says."
Published since 1992, the Lawlor Review is an education marketing journal that provides commentary on marketing and brand management issues facing higher education today. Learn more by clicking here.
Last September, the Chronicle of Higher Education cited Dr. Robert G. Bottoms as one of America's long-term college presidents who have had both staying power and success (read more here). In recognition of Dr. Bottoms' outstanding leadership and record of success as President, the Council for Advancement and Support of Education named him the 2000 recipient of the CASE V Chief Executive Leadership Award.
A graduate of Birmingham-Southern College, Emory University and Vanderbilt University, Dr. Bottoms began his career in higher education as chaplain and assistant to the president at Birmingham-Southern. He then became assistant dean and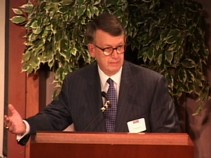 assistant professor of church and ministry at the Vanderbilt Divinity School before coming to DePauw in 1976 as Vice President for University Relations. He later became Executive Vice President for External Relations and Executive Vice President before ascending to the presidency in 1986. President Bottoms led the University's "Campaign for DePauw: Leadership for a New Century." Launched in 1996 with a goal of $153 million, the fund-raising endeavor closed in April, 2000 with gifts and commitments of $374.3 million. As a result, DePauw has increased its faculty, constructed new state-of-the-art buildings and renovated existing structures, and been recognized for three consecutive years as a top tier national liberal arts college by U.S. News & World Report. Applications to DePauw have climbed to record levels, and the University, now more selective than at any time in its history, has become a top choice for more of America's best students and is an institution of increasing national distinction.
Back