English Degree from DePauw Helps Sean McCarthy '00 Become One of St. Louis' Young Business Leaders
August 18, 2003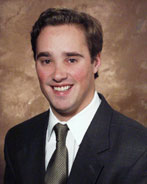 August 17, 2003, Greencastle, Ind. - "Sean McCarthy studied English in college, but he is now following his father's footsteps in the world of finance," writes the St. Louis Business Journal of the 2000 graduate of DePauw University, in naming him one of the city's thirty business leaders under the age of 30. "McCarthy, 26, is an associate vice president in the public finance department of A.G. Edwards & Sons Inc. in St. Louis. His day-to-day duties include structuring bond financing for public entities including schools, sewer and fire districts."
Patrick L. Thimangu adds, "McCarthy joined A.G. Edwards three years ago, after graduating from DePauw University in Greencastle, Indiana, where he majored in English with a minor in economics. He wasn't sure what career he would pursue, but a few summer jobs at A.G. Edwards and other financial institutions sparked his interest in the financial world... McCarthy said it was his father who urged him to stick with English even after he started thinking about pursuing a financial career because mastering the language would help McCarthy become a better communicator." McCarthy's father, John, is managing partner at a Clayton, Missouri-based venture capital firm.

Sean McCarthy tells the SLBJ, "My father told me one of the saddest things is that so many people in business do not know how to write well. My father ... he's always stood out as the person I seek business guidance from."
The story continues, "Amelia Bond, senior vice president and director of the public finance department at A.G. Edwards, said a large part of McCarthy's success comes from his ability to write good grant proposals and sell ideas to his supervisors and clients. 'I think Sean has tremendous initiative, and he is very hard working,' Bond said. 'He has very intuitive understanding of our business; he's the next generation of executives.'"

The article also tells of how McCarthy, who was born with one heart ventricle, works in his free time to help adults and children with congenital heart diseases. You can read the entire piece by clicking here.
Two DePauw alumni, Catherine A. Neville '95 and Danica L. Mathes '98, were named to the Business Journal's "30 Under 30" list last year. Read more here and here.
Back