DePauw/Putnam County Relay For Life Rated Nation's Second Best
September 22, 2003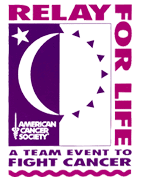 September 22, 2003, Greencastle, Ind. - "The American Cancer Society has just rated the 2003 Putnam County Relay For Life No. 2 in the nation for funds raised by a college-run relay," begins an article in Greencastle's Banner-Graphic. "This year's event, staged May 3-4 at DePauw University's Blackstock Stadium, raised more than $160,000 for the fight against cancer, smashing the previous year's record of $125,000. Only the University of Georgia, with an enrollment 15 times DePauw's 2,400 students, raised more."
Tricia Cooksey, a junior from Bloomington, Indiana, and co-chair of 2003 Putnam County Relay For Life, tells the newspaper, "without the participation of the entire Greencastle community, we would not have come close to meeting our goals. The community has truly embraced the Relay."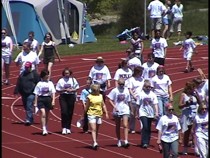 Amanda Manning, a DePauw junior from Plano, Texas and the other student co-chair of this year's event, stated, "The people of Putnam County and DePauw are truly amazing and so dedicated to this cause. We are proud to have helped put this event together and say thanks to the many people who made it another record-breaking year."
The Banner-Graphic story notes that "Putnam County Relay For Life is the oldest college-run relay in the country. This year saw 126 teams, composed of
more than 1,500 participants and 80 cancer survivors, descend on the DePauw campus for the 24-hour event, which featured a continuous parade of teams walking the Blackstock Stadium track for the fundraiser." Keith Brackney, owner of Brackney's Western Store in Greencastle and an event co-chair, noted, "With the economy the way it is, we just hoped to meet last year's total. To break the record the way we did is a tribute to the students as well as the Greencastle community."
The American Cancer Society's Great Lakes Division has also awarded the 2003 Putnam County Relay its Heart of Relay Award for Diversity, which recognizes excellence in efforts to encourage participation by all members of the community. Putnam County Relay For Life was awarded the 2002 Heart of Relay Award for the Great Lakes Division, and the year before won the National Heart of Relay Award as the best college or university Relay in the USA.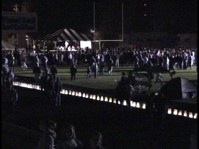 You can access the complete newspaper story by clicking here.
The 2004 edition of Putnam County Relay For Life will take place next May 1 & 2. For information, send an e-mail by clicking here.
Read more about the 2003 Relay here.
Back