Volunteerism of Judy Drompp Guild '53 Highlighted in South Bend Tribune
October 5, 2003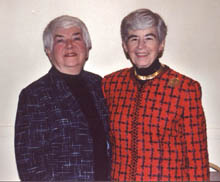 October 5, 2003, Greencastle, Ind. - Judy Drompp Guild, a 1953 graduate of DePauw University, "has been a volunteer leader in the Marshall County community ever since she and her husband came to Plymouth in 1961," writes Indiana's South Bend Tribune. "A longtime civic leader, Guild was recently honored as one of five outstanding community volunteers and a winner of a 2003 Ernestine M. Raclin Community Leadership Award presented by 1st Source Bank. Each winner received a $1,000 award, $1,000 donated to the charity of their choice and a Globe of Leadership." Another DePauw alumna, JoAnn "JoJo" Ridge Meehan '49 of South Bend, also received the award (read more here). (l-r in photo: Judy Guild and JoJo Meehan)
The newspaper story, which includes a color photo of Judy Guild, notes that she gave the $1,000 donation to the Boys and Girls Club of Marshall County. "I have been extremely impressed by the work the club does. It is an important part of our community and a wonderful program for children," Guild said. She gave another $1,000 to the Tri Kappa Scholarship Endowment Fund.
Guild is a former state president of the philanthropic sorority. She has served on the State Board of Mental Health, the Saint Joseph Regional Medical Center Development Board and was chairman of the Health Center Gala for two years and continues to volunteer for Meals on Wheels, American Red Cross Bloodmobile, Stanley Scholarship Board and as secretary of the Plymouth Library Leasing Corp.
The article notes, "A native of Logansport, Guild graduated from DePauw University in 1953, married a classmate, Kent Guild in 1955, and taught school for two years in Oak Lawn, Illinois."
You can access the complete story at the newspaper's Web site by clicking here.
Back