Report: Gen. Wesley Clark to Return Speaking Fees
October 9, 2003
Story w/ Photos, Video & Audio of Gen. Clark's Ubben Lecture
October 9, 2003, Greencastle, Ind. - "Democratic presidential candidate Wesley Clark's campaign says he'll return the money he has received for speeches since declaring his candidacy. That includes a speech the retired Army general gave last month at DePauw University in Greencastle," notes a story at the Web site of Indianapolis CBS television affiliate WISH. General Clark spoke at DePauw September 23 as part of The Timothy and Sharon Ubben Lecture Series, six days after he announced his candidacy for president. The speech was booked on August 22.
Another story in today's Washington Post, states, "In at least three paid appearances at universities since announcing his candidacy, Clark discussed his presidential campaign and criticized President Bush's Iraq policy. Corporations, unions and universities are prohibited from paying for campaign-related appearances for presidential candidates. The Federal Election Commission considers such payments the same as contributions to the candidate. Several FEC experts said Clark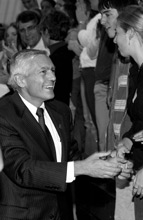 may have violated the election law by talking too much about his campaign and accepting money for the speeches."
As a result of the questions that have been raised, Clark spokesman Mark Fabiani says, "From here on, General Clark will give no more paid speeches. We believe that the paid speeches General Clark delivered... were appropriate. Nevertheless, to avoid any distraction from the real issues... General Clark has decided to return the payments."
Read the Post article by clicking here; the WISH story here; and an Indianapolis Star update here. The Washington Post broke the story Wednesday in a report that included several mentions of DePauw. Read more by clicking here.
Read a comprehensive account of Gen. Wesley Clark's DePauw Timothy and Sharon Ubben Lecture here.
Back