Poster by Professors Rebecca Schindler and Pedar Foss Deemed AIA's Best
February 16, 2004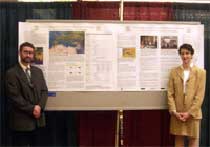 February 16, 2004, Greencastle, Ind. - A poster by Rebecca K. Schindler and Pedar W. Foss, assistant professors of classical studies at DePauw University, was the winning entry at the 2004 annual meeting of the Archaeological Institute of America. The poster, "CGMA: Collaboratory for GIS and Mediterranean Archaeology," was one of twenty-three submitted for this year's competition. the judges were from the University of Pennsylvania, University of California at Berkeley, and Boston University. (photo: Foss and Schindler with their winning poster)
Read about the winning entry by clicking here.
The Collaboratory for GIS and Mediterranean Archaeology, funded by The Andrew W. Mellon Foundation, is an inter-institutional, interdisciplinary program of undergraduate seminars, summer research internships, student-faculty workshops and work-study grants to
begin building an Internet-based Geographic Information System for archaeological field survey projects and is directed by Schindler and Foss. Read more here.
The Archaeological Institute of America is North America's oldest and largest organization devoted to the world of archaeology. The Institute is a nonprofit group founded in 1879 and chartered by the United States Congress in 1906. Today, the AIA has nearly 9,000 members belonging to 101 local societies in the United States, Canada, and overseas.
Visit the AIA's Web site by clicking here.
Back