DePauw to Establish Women's Center; Opens August 2004
April 5, 2004
Read the Report of the Task Force on the Status of Women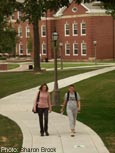 April 5, 2004, Greencastle, Ind. - DePauw University will establish an on-campus Women's Center to open in August 2004, President Robert G. Bottoms announced today. The establishment of a center was a major recommendation of the Task Force on the Status of Women.
"This is an important step toward creating more understanding of and dialogue about women's issues and the barriers to true equality that remain on this campus and the world at large," noted Dr. Bottoms. "As DePauw has become a national role model in improving its campus climate in recent years, I view the creation of the Women's Center as another initiative that will serve to improve the University and the communities in which our graduates ultimately live, work and lead."
DePauw's Women's Center will be centrally located at 306 Hanna Street. A search will begin immediately for a coordinator of the Center. The coordinator should have a background in education, activism, women's studies and/or student services. This person should also have experience with some or all of the following: sexual assault and campus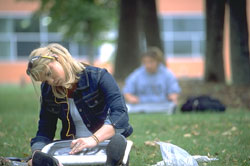 climate issues; mentoring and empowerment for women; developing of innovative, creative educational programming; group facilitation and administrative management. Additional staffing options will include two student resident managers/program directors for the center.
"The purpose, scope and structure of the Center have been determined based on broad-based consultation with faculty (Meryl Altman, Marcia McKelligan, Rebecca Bordt, Ronda Henry, Deborah Geis and Susan Hahn), staff (Cindy Babington, Ellie Prosser, Angela Nally and Jeannette Johnson-Licon), and students (Jennifer Janssen, Abigail Huffer, Jennifer Hinton, Katie Findley, Megan Casey, Melissa Gross, Melissa Paulen, and Rebecca Ruegg)," added James Lincoln, vice president for student services at DePauw. "Today's announcement is the result of some thoughtful and hard work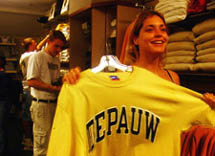 by a working group of women from throughout the University, to whom we are very grateful."
In the Spring of 2002, the Task Force on the Status of Women reported that, while DePauw has made considerable progress toward gender equity, "Women continue to struggle to feel at home here, both in terms of the cultural climate and institutional support of their needs." The Task Force recommended the creation of a Women's Center, to "serve as a resource center for students, faculty, staff, and the Greencastle community interested in and acting on behalf of women's issues at DePauw."
"We applaud the work done by the faculty, students and staff to establish a Women's Center for DePauw," says Lisa Hollander, who chaired the Task Force on the Status of Women . "We envisioned from the beginning a place where academics and advocates could come together to work, educate, and think and talk about issues that are important to all women at DePauw. We're looking forward to watching it develop."
"The creation of the DePauw Women's Center is a big step toward building a more healthy,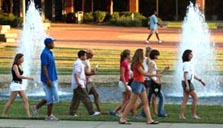 supportive, and equitable climate for women at DePauw," according to Meryl Altman, director of women's studies. "The work of the Task Force was impressive and compelling; now the allocation of space and staff time indicate the University's commitment. But we're just at the beginning: many challenges remain, and all of us will have to work together starting next year to shape and develop the center as an effective force for change."
Learn more about the work of the Task Force on the Status of Women by clicking here. Read the Task Force's report here.
Back