Work on DePauw Nature Park is Ahead of Schedule
June 24, 2004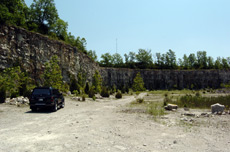 June 24, 2004, Greencastle, Ind. - Summer is here, and while work on the new DePauw University Nature Park is ahead of schedule, it seems some Putnam County residents can't wait for the official opening. Park Ranger Brien Holsapple has received several complaints from people who live near the 481-acre site that unauthorized persons have been entering the property. "The park is under construction and closed to the public," Holsapple says. "Anyone who comes in to the Nature Park must be cleared before entering; those who are not are trespassing. It's a matter of public safety and liability."
Holsapple says,
in recent days, unauthorized visitors have been cited for fishing on the site. There are also indications that bicycles and motorized vehicles have been on the premises. He says an all terrain vehicle damaged some of the work that's been done along the trails.
"The big question -- besides damage to the park and its natural beauty -- is, what would happen if someone who broke into the park became injured?," asks Doug Cox, DePauw's Director of Public Safety. "We're not yet at a point where emergency crews could respond quickly.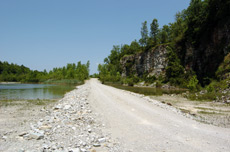 In fact, it could be hours or even days before the person was discovered. We're pleased that people are excited about the new park, but we ask that they exercise some patience as we get the site ready."
The DePauw Nature Park is located a third of a mile west of campus. It will feature as many as four trails for walking, jogging, hiking and biking; arboretums; a canoe launch; and outdoor classrooms (map shows the new Nature Park in yellow,
the existing DePauw campus is in red).
Hanson Aggregates mined a limestone quarry on the Nature Park site. With the quarry dormant for decades, Hanson agreed to donate 280 acres of the land and lease the remaining 178 acres to the University for $1 annually for ninety-nine years. DePauw acquired 23 acres of adjacent property to increase the total to 481 acres. Crews are developing the trails and preparing the site for its new use. Holsapple says work is ahead of schedule, and the park will open in time for the fall semester.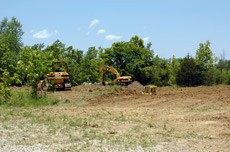 Persons interested in visiting the Nature Park must first call Holsapple at (765) 653-5139, or the Public Safety Office at (765) 658-4261. The ranger stresses that there now is only one entrance to the property, off of West Walnut Street. "The park is taking shape nicely," he says. "It won't be long before we'll all be enjoying the great things it will have to offer our campus and our community."
Read more about the Nature Park by clicking here.
Back