DePauw University Band's Season Premiere Sunday Builds on Stamp Master Class and Sousa Anniversary
September 21, 2004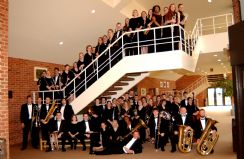 September 21, 2004, Greencastle, Ind. - The DePauw University Band, under the direction of Craig Paré, opens its concert season with a performance this Sunday, September 26, at 1 p.m. in Kresge Auditorium of the Performing Arts Center. The concert will feature works by Dmitri Shostakovich, Robert Spittal, John Philip Sousa, Ira Hearshen, and Jack Stamp. The program is free and open to all.
Stamp's Gavorkna Fanfare and Be Thou My Vision will open the afternoon concert, building upon the composer's visit to Greencastle earlier this month. An associate of Dr. Paré's dating back to their days together at the University of Cincinnati College-Conservatory, Jack Stamp (seen at right) directed and assisted the band during a master class sponsored by the School of Music.
The experience will certainly be an asset when the band delves into these beautiful and challenging works.
Adding to this intriguing program are a pair of Sousa inspired pieces. The first of these is the classic, The Thunderer, written by the master himself. Regarding the second piece, Dr. Paré explains, "The Ira Hearshen work is the second movement of a four-movement symphony that utilizes themes from a variety of Sousa marches as its foundation, with the march melodies treated in very different ways than most listener have come to hear Sousa.s music."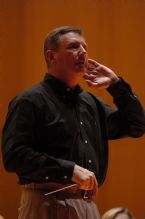 Both of these works are fitting choices considering that this year marks Sousa's 150th birthday. The DePauw University Band will be continuing its celebration of Sousa's music on Thursday, November 18 at 1 p.m. in Kresge Auditorium, dedicating an entire concert to the musical legend that will feature DePauw professor Randy Salman. (photo at left shows Dr. Paré during rehearsal)
Closing this Sunday's'concert will be John Adams' Short Ride in a Fast Machine, a rousing piece sure to provide a fitting conclusion to the festivities. Of the work and title, Adams likens it to the following, "You know how it is when someone asks you to ride in a terrific sports car, and then you wish you hadn't."
As always, all are encouraged to attend.Visit the DePauw University School of Music online by clicking here.
Back