DePauw Reclaims Monon Bell With 14-7 Victory
November 13, 2004

[Download Video: "2004 Monon Memory" - 7774kb]; Order Your 2004 Monon Bell DVD Here; View Photo Gallery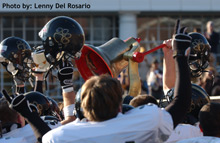 November 13, 2004, Crawfordsville, Ind. -

[Download Video: "DePauw Claims The Bell" - 2181kb] The Bell is back in Greencastle! DePauw University prevailed in a hard-fought 111th Monon Bell Classic and defeated host Wabash College 14-7 in front of an announced crowd of 11,504 fans. With the victory, the Tigers reclaim the Bell for the first time in four years and knot the all-time series record at 51-51-9. DePauw's advantage in games played for the Monon Bell grows to 35-32-6. DePauw finishes the season with an 8-2 record, it's best since 1997. The game was televised nationally on DirecTV and alumni gathered in more than 40 cities to cheer on the Tigers at telecast parties.
DePauw got on the scoreboard first with 11:11 left in the first quarter when quarterback Ross Wiethoff scampered 40 yards for paydirt:

[Download Video: "A Keeper" - 1598kb]. The extra point was good, giving the Tigers and head coach Bill Lynch a 7-0 lead.
The black and gold's defense made a key stop later in the first quarter, shutting down Wabash on 4th and goal
from the DePauw 2-yard-line:

[Download Video: "Denied!" - 1023kb].
The Tigers made it a 14-0 advantage with 6:58 left in the second quarter when Jason Murphy ran the ball in from one yard out :

[Download Video: "Tigers Take 2 TD Lead" - 1432kb]. The Tiger defense set up the score with an interception deep in Wabash territory.
Wabash battled back in the third quarter when running back Aaron Lafitte tossed a 3-yard touchdown pass to quarterback Russ Harbaugh, who had just handed him the football. The two defenses held court the rest of the way and the game's outcome was not decided until the final minute of play.
For much more in-depth coverage of today's game, visit the football team's Web page here, and access the Monon Bell site here. A photo gallery of images from today's game is accessible by clicking here. Read an Indianapolis Star summary of the game here.
A DVD of the game will be produced for a fourth year. It will include the entire game, as well as an array of extras that fans will enjoy. Read more about the disc, and order it online by clicking here.
See the "Monon Memory" of the 2004 Classic here:

[Download Video: "2004 Monon Memory" - 7774kb].
Back