DePauw reclaims Monon Bell with hard-fought 14-7 win at Wabash
November 13, 2004
STATS | PHOTO GALLERY | DEPAUW NEWS SITE STORY (with video)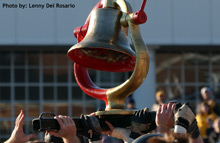 CRAWFORDSVILLE, Ind.- DePauw scored on its first offensive series and its defense countered with a first-quarter goal-line stand to set the tone in a 14-7 Monon Bell win at Wabash.
The Tigers' defense later forced a second-quarter turnover deep in Wabash territory and converted it into their other score. With the victory, DePauw knotted the all-time series at 51-51-9 and extended its narrow margin in Monon Bell games to 35-32-6. For the 21 DePauw seniors, the win was their first over Wabash in their four years.
"Both defenses were unbelievable," DePauw's first-year head coach Bill Lynch said. "It was a great effort on both sides and we were fortunate to get the one turnover because it was hard to muster anything offensively."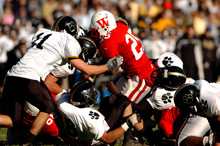 The game may very well have come down to the opening 23 minutes. After opening the game with a three-and-out defensive stand, the Tigers began their opening drive on their own 36. Four straight carries by senior Matt McMahon netted 23 yards to the Wabash 41. Junior quarterback Ross Wiethoff picked up one on a first-down run before scampering down the right sideline on second down and scoring from 40 yards. Tyler Mallory's extra point gave the Tigers a 7-0 lead with 11:11 remaining in the first quarter.
Wabash took over on its 24 and converted a couple of third downs and moved into the DePauw red zone. On a second down play the Tigers tackled Wabash junior quarterback Russ Harbaugh for a 3-yard loss but were called for a face mask which moved the ball to the 7. Following an incomplete pass, sophomore running back Aaron Lafitte picked up five yards on second down, but Michael Elkins stopped Lafitte for no gain on third-and-goal. Harbaugh's fourth-down pass to senior receiver Brandon Clifton was tipped at the line of scrimmage and fell incomplete. The drive was costly for the Tigers, however, as they lost the services of junior defensive end Dustin Hertel due to a knee injury.
Early in the second, the Tigers dug themselves out of poor field position after starting at their own nine and advancing to the Wabash 49. Senior punter Bill Riley pinned the Little Giants deep in their own territory with a punt that was returned to the Wabash 10. After freshman Austin Gorrell picked up three yards on first down, Harbaugh committed the game's only turnover when DePauw sophomore Brendan Berigan intercepted his pass at the 14 and dragged tacklers with him to the 1.
DePauw sophomore Jason Murphy was stopped for no gain on first down, but got the call again on the next play and went in for the score that made it 14-0 with 6:58 left in the half.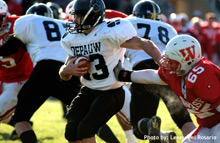 Wabash again drove inside DePauw territory to the 30 on its next series, but a Little Giants holding penalty and Darron Lasley's 9-yard sack on third down pushed Wabash back to midfield and forced them to punt. The Tigers were able to run out the clock and go into the intermission with a 14-0 lead.
The Little Giants stopped DePauw on its opening drive of the second half and a short DePauw punt gave Wabash the ball at its own 48. Harbaugh converted a third down with a 12-yard pass to junior Brandon Roop before Wabash went to the ground to move the ball to the DePauw 9.
Lafitte picked up three yards on first down and Harbaugh connected with Gorrell for a three-yard pass to the 3. Wabash put its only points on the board when Lafitte tossed a halfback pass to Harbaugh for a touchdown to make it 14-7 with 7:51 left in the third.
The teams exchanged punts throughout the rest of the third period before DePauw took over on its own 27 with 10:53 left in the game. The ground attack of McMahon, freshman Jeremiah Marks and Wiethoff drove the Tigers to the Wabash 41. The big play in the drive came from the DePauw 48 when Marks converted a fourth-and-inches. The Tigers were forced to punt with four minutes left and Wiethoff's 53-yard punt landed in the end zone for a touchback.
The Little Giants took over on their own 20 with Harbaugh running for six yards and completing a pair of passes to the Wabash 41. The Tigers were whistled for pass interference on the next play which moved the ball inside DePauw territory at the Tigers' 44.
After an incomplete pass on first down, Wabash picked up one yard on Gorrell's run before Harbaugh was sacked by sophomore Eric Lewis for a two-yard loss on third down. Harbaugh's fourth-down pass, intended for Roop, fell short after sophomore Ian MacLeod applied pressure giving DePauw the ball with just 1:16 left. The Tigers sealed the win when McMahon rumbled for 15 yards on a second-down play and DePauw ran out the clock.
The win was the Tigers' sixth straight after a one-point loss to Southern Collegiate Athletic Conference champion Trinity in September and DePauw finished the season with an 8-2 record. Wabash concluded its season at 6-4.
"I�ve never seen a group of kids want to win a football game more than this group did," Lynch said.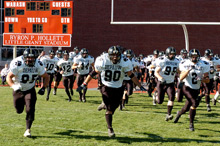 "These seniors didn�t want to leave here without winning it," he added. "But I�ll tell you what Wabash�s kids played just as hard. That was a great football game. It's really what football is all about the way that game was played."
In a game with just 457 yards of offense between the two teams, DePauw edged the Little Giants 231-226 in total offense.
The Tigers finished with 221 rushing yards with Marks garnering 91, followed by McMahon with 79 and Wiethoff with 64. Wiethoff completed just 2-of-7 passes for 10 yards with both going to Jamarcus Shephard.
Gorrell led Wabash with 97 rushing yards, while Lafitte was limited to just 31. Harbaugh completed nine of 21 passes for 90 yards including three to Summers for 33 yards.
The defenses really told the story in this game as Lewis led DePauw with nine tackles and Elkins followed with eight. The Tigers sacked Harbaugh five times with Lewis leading the way with three, followed by Lasley with one and Barr and sophomore Luis Davila with one-half each.
Freshman Adrian Pynenberg led the Little Giants with 15 tackles including two for losses. Sophomore Reggie Foley had eight tackles and one of two Wabash sacks on the day. Junior Tamarco White had the other sack.
Lynch, a former head coach at Butler and Ball State reflected on his first year with the Tigers and the 8-2 finish.
"I�m so happy with the way they improved throughout the year and one thing that stands out for me is that since the last play of the Trinity game this team has not been behind in a game. This shows you the leadership of the seniors and this just tops it off."
DEPAUW NOTES: Jamarcus Shephard finished his career ranked third in school history with 168 receptions, fourth with 2,382 receiving yards, first with 1,430 kickoff return yards and second with 3,997 all-purpose yards...Jeremiah Marks completed his rookie season with 922 yards in nine games which ranked third in school history, while Ross Wiethoff totaled 784 rushing yards to rank eighth all-time...the Tigers finished the season with 2,546 rushing yards which was just two shy of the record set in 1974...DePauw set the single-season record with 25 rushing touchdowns, eclipsing the mark of 24 set in 1990...The Tigers finished the season with a 5-0 road record for their first undefeated season away from Blackstock Stadium since 1985.
Back