"Greatest Choral Conductor in the World," Joseph Flummerfelt '58, Begins Residency at His Alma Mater
February 1, 2005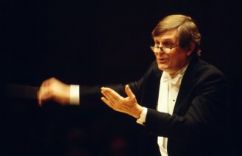 February 1, 2005, Greencastle, Ind. - February marks the arrival and residency of one of DePauw's most famous musical alumni, Joseph Flummerfelt '58. Described by Leonard Bernstein as "the greatest choral conductor in the world" and recently named "Conductor of the Year 2004" by Musical America, Dr. Flummerfelt will hold the position of Elizabeth P. Allen Distinguished University Professor of Music during his stay at DePauw. His busy schedule will see him actively working with the DePauw University Chorus, Chamber Singers and other interested students and community members in a series of rehearsals, convocations, concerts and master classes.
Among the residency's musical highlights will be a pair of events taking place on the final weekend of February that are free and open to the public. On Saturday, February 26, Flummerfelt will lead the DePauw University Chorus and Chamber Singers in a choral concert that begins at 7:30 p.m. in Kresge Auditorium. The program will feature two masterpieces of choral literature, Gabriel Fauré's Requiem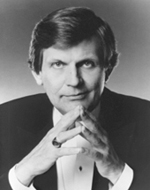 and Igor Stravinsky's Symphony of Psalms. On Sunday, February 27 at 1:30 p.m., Flummerfelt and the DePauw University Chorus and Chamber Singers will perform a choral workshop on the Fauré Requiem that includes coachings and a sing-through. The event will take place at St. Luke's Methodist Church located at 100 West 86th Street in Indianapolis and is expected to draw numerous singers, choral directors, and choirs from the surrounding area. Receptions will follow both events.
Joseph Flummerfelt has received a myriad of awards for his prestigious accomplishments. Many are due to his work with the Westminster Choir College of Rider University, which he served as artistic director and principal conductor from 1971 to 2004 and is now conductor laureate. He has also served as Chorus Master of the New York Philharmonic, Director of the Spoleto Festival USA and Maestro del coro for the Festival dei Due Mondi and has collaborated with such eminent conductors as Leonard Bernstein, Pierre Boulez, Claudio Abbado, a
nd Seiji Ozawa. Flummefelt's choirs have also performed with such noted orchestras as the New York Philharmonic, Royal Concertgebouw Orchestra, Berlin Philharonic and the Vienna Philharmonic. (photo at left shows Flummerfelt with Leonard Bernstein)
Dr. Flummerfelt has also been an active DePauw alum, returning to Greencastle numerous times and being honored by his alma mater with an honorary Doctor of Music degree as well as the Old Gold Goblet. It was during his April 2004 visit, in which the Westminster Choir performed as a part of Dr. Flummerfelt's "farewell tour," that plans began to materialize for the upcoming residency.
Flummerfelt will be collaborating with Vincent Metallo, DePauw's director of choral ensembles, throughout his residency, which begins on February 14 and runs through
the beginning of March. In addition to the aforementioned concerts, Dr. Flummerfelt will conduct rehearsals of the DePauw choirs, present a convocation in Thompson Recital Hall at 1 p.m. on February 17 and present a conducting master class on March 1 at 6:30 p.m. in Thompson Recital Hall.
All of Joseph Flummerfelt's events are free of charge and open to the public.
For more information, visit the DePauw University School of Music by clicking here, or call (765) 658-6737. Visit the conductor's Web site by clicking here.
Back