31 From DePauw to Spend 'Alternative Fall Break' Helping Hurricane Victims in Mississippi
October 13, 2005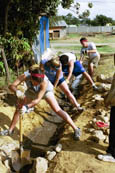 October 13, 2005, Greencastle, Ind. - Fall Break will be a life lesson in helping others for 31 members of the DePauw University community. Twenty-six students and four faculty members will leave Saturday morning for Pascagoula, Mississippi to provide relief to victims of Hurricane Katrina. On the Mississippi/Alabama border, Pascagoula is 34 miles east of Gulfport, Miss. and 100 miles east of New Orleans. The DePauw contingent will be joined by Todd Strader, a 1987 graduate of the University who owns a contracting company in Indianapolis, and is contributing a truck, cordless hand tools and his time and energy to the effort.
"Katrina hit the Gulf Coast as our academic year was beginning, so there wasn't much our students could do besides raise money for the victims of the storm," says Bill Montgomery, coordinator of Winter Term in Service and Alternative Breaks at DePauw. "For weeks, we've been eyeing Fall Break, a week-long period, as the perfect opportunity to go the region and do some good for the people.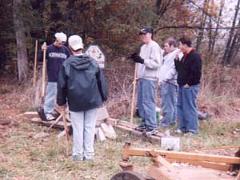 The student response has been strong from the start and I know they will have a very positive impact on the community there." Carolyn Thatcher, a DePauw junior, coordinated the student recruitment effort.
The DePauw group will work in partnership with the Red Cross and Southern Baptist Convention, and stay at the First Baptist Church of Pascagoula. "We will be dispersed in teams of 7 to 8, working with chain saw crews and assisting with debris clean-up and food distribution," Montgomery notes. The team will return to the Greencastle campus on Saturday, October 22.
Learn more about service and off-campus study programs at DePauw by clicking here. Read about the University's hurricane relief efforts in this previous story.
Back