President Bush Takes Some Friendly Jabs at Vernon Jordan '57 in Speech to Economic Club
October 26, 2005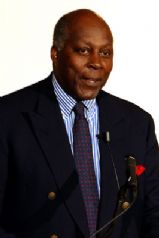 October 26, 2005, Greencastle, Ind. - President George W. Bush invoked the name of former presidential adviser and 1957 DePauw University graduate Vernon Jordan several times today as he addressed the Economic Club of Washington, D.C., which Jordan is president of. "As you know, there was an important presidential election last year," President Bush said. "There was a lot of debate and the stakes were high. Fortunately, for all of us here it came out the right way -- Vernon Jordan was elected president," Bush said to laughter from the audience. "My only regret is Vernon didn't tell me this was lunch," Bush added to more chuckles. "I was looking for some warm food."
In his address, President Bush outlined his agenda for the economy, and took another friendly poke at his host, who advised Presidents Clinton and Carter and is a prominent voice in the Democratic party. Bush noted the need for a "free and fair global trading system," adding, "It's important that people in Washington not use trade as a political issue. The objective is to have strong support from Republicans and independents and discerning Democrats, like Vernon Jordan. (Laughter.) I've been disappointed with how the trade debates have gone in Washington. In the 1990s, many Democrats supported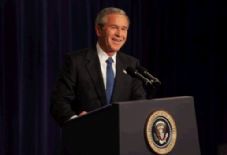 important trade agreements such as NAFTA. Fewer and fewer Democrats today are willing to stand by that position and support trade bills that are good for American workers. It's time to get politics out of trade policy and focus on what's best for the United States of America," President Bush said to applause.
Access the text of the speech at the White House Web site.
Vernon Jordan was the keynote speaker at a ceremony last Friday in which the Travis County, Texas courthouse was renamed to honor Heman Sweatt, whose struggle for equal rights led to the desegregation of the University of Texas. Read more here.
Back