DePauw and the High Tech Business it Helped Launch, Aviation Core Matrix, on Statewide TV Program
April 17, 2006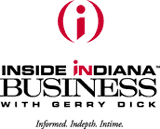 April 17, 2006, Greencastle, Ind. - "DePauw played a major role in the creation of the company," Gerry Dick told his statewide television audience on the edition of Inside Indiana Business that aired over the weekend. The program profiled Aviation Core Matrix, a technology-based company that was created as a result of the Putnam County Economic Development Partnership Fund (PCEDPF) an initiative announced and administered by DePauw and funded through a Lilly Endowment grant.
Aviation Core Matrix provides training, certification and career services for airline mechanics and related enterprises. The company has five full-time employees and is hosting six DePauw students as interns, and has several alumni in
post-graduate positions.

[Download Video: "DePauw's Role" - 2214kb] "The grant that we have from Lilly Endowment allows us to think about how we can make Putnam County a stronger place," Dennis A. Trinkle, associate vice president for academic affairs and chief information officer at DePauw University, told the program. Dr. Trinkle says that, in turn, "helps all the students at DePauw, helps us attract stronger faculty (and) stronger staff to the University, and by creating interesting businesses and business opportunities in the community we also create outlets for students" to enjoy real world experiences."
Dick noted that DePauw's efforts prove that economic development is not the sole domain of larger universities; that smaller schools like DePauw can provide opportunities for learning and, at the same time, job creation. Aviation Core Matrix is one of three companies created under the PCEDPF,
Trinkle notes.

[Download Video: "Economic Development" - 1334kb] "We're proving that it just takes creativity, energy and entrepreneurial spirit for even small institutions to help with economic development," he told the program.
Trinkle, Tenzer Family University Professor in Instructional Technology at DePauw and 1991 graduate of the University, declared,

[Download Video: "Trinkle Outlines Goals" - 1911kb] "Our current goal is to fund two or three startup companies each year or to find early stage companies that might want to try a new product line or a new service that the University might be able to help fuel to incubate." He also again stressed the opportunities these new ventures provide DePauw students and alumni.
LaWayne Englestad, president of Aviation Core Matrix, joined Trinkle on the program.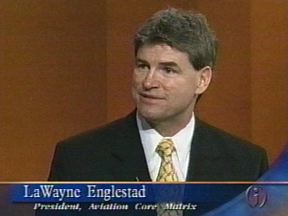 He described the company's work as "global" and says its

[Download Video: "The Company's Goals" - 1344kb] "ultimate goal is to develop cost-effective means of reliability and safety improvements in the aviation industry."
Englestad told Inside Indiana Business that it was DePauw's

[Download Video: "Clout" - 1554kb] "grant opportunities and internships that gave the program clout. With that, we were able to capture investors and bring on the right type of people needed to start this business."
Visit Inside Indiana Business.com to learn more.
Dennis Trinkle is a nominee for a 2006 TechPoint Mira Award. Dr. Trinkle, a 1991 graduate of DePauw, is one of ten individuals and programs in the final
running for the "Educational program/department/individual" award. Winners will be announced at the Mira Awards banquet May 19 at the Indiana Roof Ballroom.
DePauw is among the "Top 50 Most Unwired College Campuses," according to a survey of all institutions of higher learning -- big and small -- sponsored by Intel Corporation. DePauw is ranked #30 -- the highest of any liberal arts college in America -- in the report, which appeared in the October 17 edition of U.S. News & World Report. More than 1,000 campuses were included; only 50 made the final list. Survey findings are based on the percentage of campus that is covered by wireless technology, the number of undergraduate students and the computer to student ratio for each school.
Source: Inside Indiana Business
Back