Intel Survey Ranks DePauw America's Top Liberal Arts College for Access to Wireless Technology
October 11, 2005
October 11, 2005, Greencastle, Ind. - DePauw University is among the top colleges and the universities in America for the wireless technology it provides its students, faculty, staff and visitors. DePauw is among the "Top 50 Most Unwired College Campuses," a survey of all institutions of higher learning -- big and small -- sponsored by Intel Corporation. DePauw is ranked #30 -- the highest of any liberal arts college in America -- in the report, which appears in the October 17 edition of U.S. News & World Report.
"This recognition highlights the exceptional resources that students, faculty members, and staff have access to at DePauw," says Dennis Trinkle, associate vice president for academic affairs, chief information officer and Tenzer University Professor in Instructional Technology at DePauw. "The ranking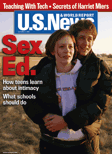 is affirmation that the University is providing its students with unique and top flight opportunities. At DePauw, students get both the high-touch mentoring and instruction that only takes place at a small liberal arts college, while at the same time, they can access the pathbreaking, cutting-edge technologies and resources that are generally only available at large research institutions. It's a potent combination," Dr. Trinkle, a 1991 DePauw graduate, adds.
"Colleges and universities across the country are investing in wireless communications technology so that students can stay connected to friends, family, information and entertainment as they move about the campus," notes U.S. News. "Faculty and staff also benefit from the ability to send and receive information without wires. With wireless networks and wirelessly enabled Intel® Centrino™ mobile technology-based laptop PCs, professors can hold virtual office hours and administer exams while university operations personnel can complete paperwork on the spot and submit work orders
from the field."
The survey was sponsored by Intel Corporation and conducted by Bert Sperling, a researcher who specializes in conducting and analyzing data for the nationally known "Best Places" surveys. More than 1,000 campuses were included; only 50 made the final list. Survey findings are based on the percentage of campus that is covered by wireless technology, the number of undergraduate students and the computer to student ratio for each school. See the complete list by clicking here.
"Across the country, wireless campus networks are dramatically changing the way students, faculty and staff learn and work. Wireless networks are connecting students and faculty to vital academic resources, providing improved efficiencies for faculty and staff and overall creating a new and enriched social fabric on campus," says Richard Beckwith, an ethnographer with Intel's Corporate Technology People and Practices Research Group that examines the impact that mobile wireless technology adoption is having on education. "The class of 2009 will graduate to a world far more technologically-advanced than it is today. Today's campuses are like a living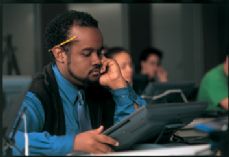 laboratory, providing a sneak peek into how tomorrow's digital communities will positively impact the way people work, live, learn and play as wireless infrastructure continues to advance and evolve," adds Dr. Beckwith.
A separate survey, released by Forbes.com and Princeton Review last year, found DePauw to be #3 on the list of America's 25 Most Connected Campuses."
In February 2001, DePauw University received a $20-million grant from Lilly Endowment to establish a national technology center and launch a series of initiatives to guarantee that the university's 2,350 students, faculty, and staff will be equipped to provide the creativity and leadership required by the digital age. The name of the resulting model -- 361° -- refers to DePauw's goal that these initiatives will prepare students for every degree of life and for creating the future. DePauw's efforts reinforce the institutional emphasis on critical thinking, problem-solving, interpretation, learning through experience, and learning through reflection. In this context, information technologies are integrated into curricular and co-curricular activities
as a liberal art rather than in a skill-based approach, and IT tools are used as a scaffolding for discussion.
In August 2003, DePauw received the 2003 EDUCAUSE Award for Systemic Progress in Teaching and Learning for its 361° Initiatives. One of six EDUCAUSE Awards for leadership and innovative use of technology in higher education, the EDUCAUSE Award for Systemic Progress in Teaching and Learning had never before been presented to a university or college that is not a doctoral/research institution.
Also in 2003, the New Media Consortium (NMC) named DePauw a New Media Center, one of only about 125 institutions worldwide to receive the designation.
Beginning with this fall's entering class, DePauw students are required to come to campus with a laptop computer, and the University has worked out special programs for students to purchase the devices at a discount (read more here).
The Princeton Review's 2006 guide to The Best 361 Colleges, which includes quotes from students, states, "Students tell us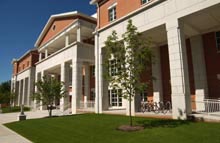 that 'classes are small and discussion based. You also get access to the best professors starting your freshman year.' Undergraduates also appreciate how 'DePauw really values technology.'"
"361° helps us to assure that all DePauw students have access to the best resources and tools for learning and research and that they also learn the information fluencies now required for success in a technologically and globally interconnected world," declares Trinkle.
Visit 361° online by clicking here.
Back