DePauw Trustees Approve Creation of Greek Fact-Finding Commission
April 21, 2006
Read About the Greek Fact-Finding Commission; Contact the Greek Fact-Finding Commission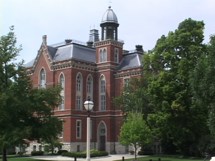 April 21, 2006, Greencastle, Ind. - DePauw is creating a Greek Fact-Finding Commission

[Download Audio: "Commission Announced" - 136kb] "to look at the impact of the Greek system on the living and learning environment here at DePauw," James B. Stewart '73, chair of the University's Board of Trustees, announced this afternoon at the close of the board's spring meeting. The Trustees voted unanimously to approve the measure creating the commission. Stewart added,

[Download Audio: "More from James B. Stewart '73" - 80kb] "There are many things we want to understand better, that we want to know."
DePauw President Robert G. Bottoms has appointed members to the commission, which will be chaired by Lisa Hollander, vice president for development and alumni relations. Student participants include Zachary Adams '06, Christopher Ball '07, Janelle Beckford '07, Emmalynn Brown '07, Melyna Hernandez '07 and Michael Treffehn '06. Alumni members are Julie Goodrich '73 and Daniel Hasler '80. Faculty participants will be David
Newman, professor of sociology and Jackie Roberts, associate professor of chemistry and biochemistry. Three administrators will also serve as members of the task force: Cindy Babington, assistant to the vice president for student services and dean of students; James Lincoln, vice president for student services; and Stefanie Niles, dean of admission.
The group will begin its work Monday and examine fraternity and sorority life at the University and is to deliver a final written report to President Bottoms before the Fall 2006 term begins.
Dr. Bottoms underscores the point that it will be a fact-finding mission,

[Download Audio: "Facts, Not Recommendations" - 540kb] "there won't be recommendations." After he is presented with the report, the president says, "We'll have a lot of campus dialogue... (The document) will be made public, and I will initiate conversations across the campus community." Bottoms will present his recommendations to the Board of Trustees at their October 2006 meeting. Chair Stewart will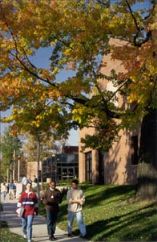 then appoint a committee of Trustees to examine both the commission's report and the president's findings, and the issue will be discussed at the board's January 2007 retreat.
Both President Bottoms and James B. Stewart stressed that the Greek system is integral to the University's culture and part of the uniqueness of the DePauw experience. Despite the work of the Coalition for a Responsible Community, launched in March 2003, the campus continues to struggle with issues pertaining to alcohol abuse and related behavior.

[Download Audio: "Extension of the Strategic Plan" - 251kb] "I want to stress that we see this particular commission and its fact-finding process as part of something that's much bigger than just any two or three or four incidents in a certain period of time," Stewart told student reporters who gathered at Walden Inn for a news conference today. "To me, it's very much a natural extension of the Strategic Plan and our focus on making this a truly outstanding living and learning environment."
The Pulitzer Prize-winning investigative journalist and bestselling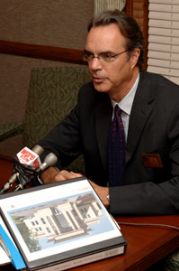 author says

[Download Audio: "A Lot of Good News" - 466kb] "there's a lot of good news" regarding DePauw, "and I think the board is feeling very comfortable with some solid achievements of recent years. Stewart noted the 82% graduation rate "as one quantifiable measure of academic success; it really is very impressive. DePauw has, by far, record applications for next year's class. The number of donors and the amount of giving to the Annual Fund and through the planned giving campaigns is up substantially over previous years." He pointed out that "a very strong quarter" has increased DePauw's endowment to $470 million.
In conclusion, the 1973 graduate of DePauw asserted, "By almost any quantifiable measure that I can come up with, I think it's fair to say that we're in the best shape that we've ever been in. And I think everyone is very pleased with that and proud of that."
Back