Prof. Tom Chiarella Analyzes 'The Problem with Boys' in July Esquire
July 11, 2006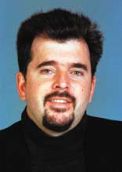 July 11, 2006, Greencastle, Ind. - "Men have to be willing to care about the way boys are being treated, taught, and cared for in this country and advocate for them," writes Tom Chiarella in Esquire. Chiarella, professor of English at DePauw University, is a contributing editor for the magazine. In the July issue, he examines "The Problem with Boys."
There is a "boys crisis" today, Chiarella asserts, noting, "if you are a boy in this country right now: You're twice as likely as a girl to be diagnosed with an attention-deficit or learning disorder. You're more likely to score worse on standardized reading and writing tests. You're more likely to be held back in school. You're more likely to drop out of school. If you do graduate, you're less likely to go to college. If you do go to college, you will get lower grades and, once again, you will be less likely to graduate. You'll be twice as likely to abuse alcohol, and until you are twenty-four, you are five times as likely to kill your self. You are more than sixteen times as likely to go to prison."
The professor -- author of the books Foley's Luck, Writing Dialogue and Thursday's Game: Notes from a Golfer with Far to Go -- argues that the problem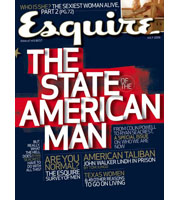 is not boys, but men. He calls on men to "be in the schools -- at the PTA meetings, at parent-teacher conferences, in front of school boards, in classes teaching or just talking about their jobs. Young men, men without children, must take a stake and volunteer to coach, to counsel, to read to kids. You can't wait for fatherhood to hit you in the face. Men whose children are grown must mentor a new generation of children. Select two boys, the ones who need it, the ones you know are hurting. Take a lesson from Joel Klein [the chancellor of New York City schools] and convince two more men to do the same. Two more men: That's your assignment."
Read the complete essay at Esquire's Web site. Learn more about Tom Chiarella in this previous story.
Back