Paintings of Eric Sall at Peeler Art Center, August 23-September 24
August 1, 2006
Also: 'Past in Reverse: Contemporary Art of East Asia,' August 23-December 8
August 1, 2006, Greencastle, Ind. - "Light Pollution," featuring the large-scale, non-representational paintings of Eric Sall, will be on view at DePauw University's Richard E. Peeler Art Center from August 23 through September 24, 2006. Free and open to the public, the galleries at the Peeler Center are open Tuesday through Friday 10 a.m.-5 p.m.; Saturday 11 a.m.-5 p.m.; and Sunday 1-5 p.m. (at left: Futile Arch, 2006, oil on canvas, 48" x 33", courtesy of Andrew Clark)
Drawing from the history of art and painting's lexicon of marks, Eric Sall creates large-scale, non-representational paintings that allude to figuration while remaining immersed in the abstract nature of paint. By adopting the strategy of presenting a figure -- or protagonist -- over an ambiguously rendered background, Sall alludes to the tradition of representational painting without depicting any discernable forms.
Characterized by a sense of visual gravity in which gestural marks, flat shapes, impastoed dollops, and textured washes coalesce into clustered forms on the surface of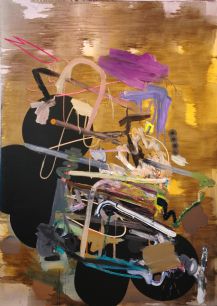 the canvas, Sall's paintings engage free association and instinct. Sall's work is informed by personal as much as it is by experience the history of art -- drawing inspiration from a wide range of sources including magazine advertisements, film, commercial logos, and events from his youth. As he states, his paintings can be influenced by "a memory of the Northern Lights at 3:00 a.m. on a secluded dirt road in the middle of South Dakota to an image of a brand name jacket in a magazine that I desired. It is just as likely that I would associate graphic marks to designer logos as I would associate a washy field of color to a Midwest sky." Despite their seemingly schizophrenic nature, his divergent interests are processed and played out with cohesion and savvy in his paintings. (at right: Slippery Silhouette, 2006, oil on canvas, 84" x 60", courtesy of Nick Lawrence)
Eric Sall is a recent graduate of Viginia Commonwealth University's prestigious painting program. His work has been exhibited at ATM Gallery and Alona Kagan Gallery, New York City; ADA Gallery, Richmond, Virginia; Dolphin Gallery and Joseph Nease Gallery, Kansas City, Missouri; and the Roswell Museum and Art Center, Roswell, New Mexico. He is the recipient of the Virginia Museum of Fine Arts Fellowship Program Award, the Joan Mitchell Foundation Painters and Sculptors Grant Program Award and a Charlotte Street Fund Award. His work is in the collections of the Daum Museum of Contemporary Art, Sedalia, Missouri; the Nerman Museum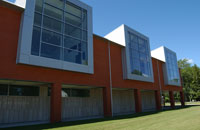 of Contemporary Art, Overland Park, Kansas; and the Anderson Museum of Contemporary Art, Roswell, New Mexico.
Sall will present a talk at an opening reception, Wednesday, September 6, 2006, from 4 to 5:45 p.m.
For more information, visit the Peeler Art Center online, or contact Christopher Lynn, assistant curator, at (765) 658-4884.
Back