'Past in Reverse: Contemporary Art of East Asia' at Peeler Center, August 23 - December 8
July 19, 2006
Also: "Light Pollution: Eric Sall," August 23-September 24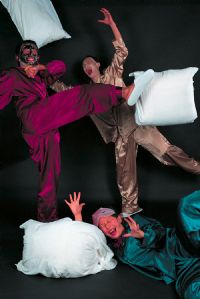 July 19, 2006, Greencastle, Ind. - "Past in Reverse: Contemporary Art of East Asia," an exhibition exploring the innovative ways contemporary artists in East Asia create work that fuses cultural histories and ancient techniques with new technologies, opens at DePauw University's Richard E. Peeler Art Center on August 23, 2006. The works will remain on display through December 8, and the exhibition is free and open to all. (at left: Cao Fei, Game Series: Football, 2000, chromogenic print, 70 7/8 x 47 1/4 in., courtesy of the artist)
In recent years, East Asia has become a particularly vital and increasingly influential player in the global economic and political arenas. Concurrently, cultural and artistic innovations from this geographic area, though still new to many Western audiences, are a recognized force with the international art scene. Past in Reverse: Contemporary Art of East Asia brings together the work of twenty-two established and emerging artists and artists -- groups from mainland China, Taiwan, Hong Kong, Japan, and South Korea, and provides a rich overview of the innovative and remarkable work coming out of this region.
The exhibition's premise is borrowed from a common practice shared by the artists -- namely, using the past to map the future. Ranging in age from their twenties to their fifties, and working with both traditional materials and new technologies, including painting, sculpture, photography, installation, video, and digital media, the artists in Past in Reverse represent
the region's tremendous contemporary import and deep cultural complexity. (at right: credit: Wang Qingsong, Knickknack Peddler, 2002 chromogenic print, 47 1/4 x 157 1/2 in., courtesy of the artist and CourtYard Gallery, Beijing)
Asserting the interrelated cultural identities of East and West, Past in Reverse relates art to current geo-political conditions and reflects the emergence of East Asia as an ascendant player in the global economic and political arena. The works in the exhibition collectively shape fresh readings of contemporary society by extending or redefining both traditional and modernist visual languages. This process of self-evaluation and discovery, as well as experimentation with new technologies, has yielded a host of innovative and challenging solutions, as well as practices that rely on the seduction of historical reference and its ability to propel us towards the future.
Participating artists include: Ryoko Aoki, Yiso Bahc, Cai Guo-Qiang, Cao Fei, Flyingcity Urbanism Research Group, Hiroshi Fuji, G8 Public Relations and Art Cons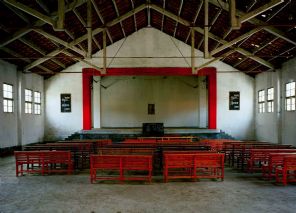 ultation Corporation, Hung Yi, Hee-Jeong Jang, Soun-Gui Kim, Kim Young Jin, Leung Mee Ping, Michael Lin, Mitsushima Takayuki, Shao Yinong and Muchen, Wilson Shieh, Tadasu Takamine, Wang Jianwei, Wang Qinsong, Yang Fudong, Yangjiang Calligraphy Group, and Shizuka Yokomizo. (left: Shao Yinong and Munchen, Assembley Hall Series: Pukou, Zhejiang, 2002, chromogenic print, 48 x 66 7/8 in., courtesy of the artists)
This exhibition was organized by the San Diego Museum of Art with major support provided by the Emily Hall Tremaine Foundation. Its presentation at DePauw has been generously funded by Richard D. and Barbara Dixon Harrison '56.
You're invited to attend a gallery talk by Betti-Sue Hertz, Curator of Contemporary Art, San Diego Museum of Art, on Thursday, October 26, at 4 p.m.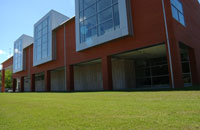 The galleries at the Richard E. Peeler Art Center are open Tuesday through Friday 10 a.m.-4 p.m.; Saturday 11 a.m.-5 p.m.; and Sunday 1-5 p.m.
For more information, visit the Peeler Art Center online, or contact Kaytie Johnson, director and curator of University Galleries, Museums and Collections, at (765) 658-6556.
Back