Don Delves '78 Publishes Stock Options & The New Rules of Corporate Accountability
July 26, 2006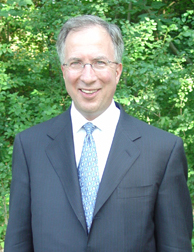 July 26, 2006, Greencastle, Ind. - Stock Options & The New Rules of Corporate Accountability, by 1978 DePauw University graduate Donald P. Delves, has just been published by WorldatWork. The founder and president of The Delves Group in Chicago, Don Delves is a highly sought after consultant and speaker on corporate governance and executive pay and compensation. The book's foreword is written by Paul A. Volcker, former chairman of the Federal Reserve, who has appeared at DePauw as an Ubben Lecturer and participant in DePauw Discourse 2005.
"Don Delves is one of the industry's most knowledgeable compensation consultants," states Larry Hirsch, chairman and CEO of Centex Corporation. "His book makes an important contribution to the stock option dialogue." "Don Delves has given us a clear, lively exposition of multiple issues and variables to be considered," adds Ronald L. Turner, chairman, president and CEO, Ceridian Corporation. "His interviews with thought leaders, such as Paul Volcker and Myron Scholes, and the incisive questions he poses help frame a robust debate on the proper use of options."
Don Delves, a certified public accountant, was an economics major at DePauw,
where he graduated summa cum laude, and went on to earn an M.B.A. in finance from the University of Chicago. First published by McGraw-Hill in the fall of 2003 as Stock Options and the New Rules of Corporate Accountability, this new edition has been re-examined and updated to include the implications of regulatory changes instituted by the Financial Accounting Standards Board. Delves also authored CCH Accounting for Compensation Arrangements, another 2006 release.
Learn more about Stock Options & The New Rules of Corporate Accountability by clicking here.
Information on Don Delves can be found here.
Back